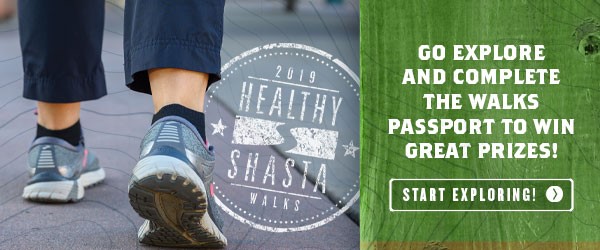 Healthy Shasta Walks Passport, thru Nov. 30
Start exploring now with the Healthy Shasta Walks Passport! The passport features various walks and walking activities people can try to be more active throughout the day. Passports available at most libraries in Shasta County and available on the Healthy Shasta Walks website.
Download your passport today at www.HealthyShastaWalks.org !
Participants who complete at least 10 walks on the Walks Passport are eligible for PRIZES such as a grand Adventure Package including:
Night stay in a Caboose at the Dunsmuir Railroad museum
Passes to Shasta Caverns and Turtle Bay Exploration Park
Fit Bits
Stand Up Paddle Board lesson
National Park Pass
Those who complete all 25 walks by blacking out their passport will be entered into an additional drawing for gift certificates from Fleet Feet for new sneakers. Passports need to be completed and returned to libraries (Anderson, Burney, Cottonwood, Redding and Shasta Lake) by November 30, 2019, for participants to be eligible for prizes. Participants need to reside in Shasta County. All participants completing 10 walking activities on the Walks Passport will get a bandana when they turn in the passport at the library starting November 1st.