Walktober Challenge
2019 Challenge COMING SOON!

The Healthy Shasta Health Works Group invites you to participate in the WALKTOBER challenge. Our goal this year is to take over 200 million steps- much more than the distance it takes to circumnavigate our planet.
Walk to Work. Consider walking to work, taking a walking break, having a walking meeting, or even walking to lunch. Make walking a part of your daily routine. Do you live to far from work to walk? Consider parking  farther away from work and add in a few more steps.
Walktober is the perfect time to add more steps into your day. Make your walk work for you. Every step counts.
Please contact WalktoberChallenge@gmail.com or 229-8456 for questions.
2019 Walktober Challenge Information:
Please note information is currently being updated (08.14.19)
Basic Info
Tracking Sheet
How do I join?
In order to participate, teams will need to designate a team leader who will notify us by email that your workplace will be participating.  The team captain will receive weekly updates that can be shared with their team. At the end of the challenge, the team captain will email your workplace's final tallies of steps using one of the Walktober Tally Sheets.
*Winning organization is based on total steps divided by total participants.
Who can participate?
All workplaces are invited to join. Workplaces can also invite their family and friends to join their team if they do not have a workplace team of their own. Individuals who are not associated with a workplace can also form a non-work related team (we recommend teams having at least 5 participants).
What does the winning team receive?
The winning workplaces will receive our traveling Walktober trophy (currently held by United Shasta and Shasta Mosquito Vector Control District) along with a Bike Blender Smoothie Party  provided by Healthy Shasta.
Will there be prizes for participating?
Yes, you can count on prizes again this year! All individuals who participate will be entered into a free drawing where winners will be randomly selected.
Current 2019 Walktober Participants:
Shasta County HHSA Public Health
Redding Rancheria
Shasta Community Health Center
Shasta County Office of Education
Shasta Mosquito And Vector Control District
Don't see your workplace? Let us know!

2018 Walktober Results: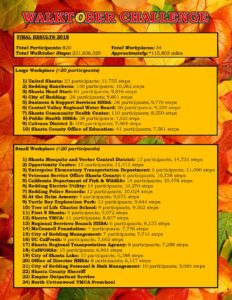 For the full 2018 Walktober results, click here.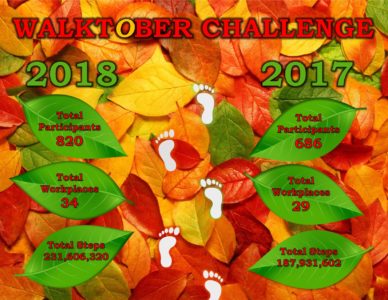 2017 Walktober Results:
Redding Rancheria took 1st place in our large workplace category followed by Shasta Community Health Center and Shasta Head Start. Shasta Mosquito Vector Control District took 1st  in our small workplace category followed by Shasta Union High School District and WIC/NFP.
Together, 29 workplaces totaling 686 participants took 187,931,602 steps (that is enough steps to walk across the earth over 3.5 times)…
The winning workplaces, Redding Rancheria and Shasta Mosquito Vector Control District received a traveling trophy to hold until next years challenge. Both workplaces received a special treat with the Healthy Shasta Bike Blender coming to their workplace and providing their Walktober participants with smoothies!
6 individual prizes were given out. The prizes were as following:
$50 gift card to Urban Retreat
YMCA Personal Trainer Session
Whiskeytown/Lassen National Park Pass
Fit Bit Flex
Shasta Caverns Adult Year Pass
Headwaters Adventure Kayak Rental
Walktober Bonus Challenge
Take the "Become the Best You" Challenge
"We are all born with an innate desire to become better. Then life happens. The list of things we'd like to do better is very long, and we have so much going on that we settle for merely good enough. As we struggle to keep up with life, we tell ourselves that we are doing the best we can. In reality, we become stagnant, always striving for more but progressing toward better at a very slow rate- mildly disappointed that we are not fulfilling our inner desire to progress."- Tad Mitchell
Make building positive habits fun with these 5 Bonus Challenges brought to you by Well Right.
Walking Guides
Stay Active Resources
Find Places to Walk and People to Walk With
Local Activities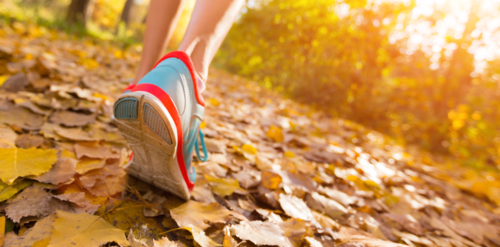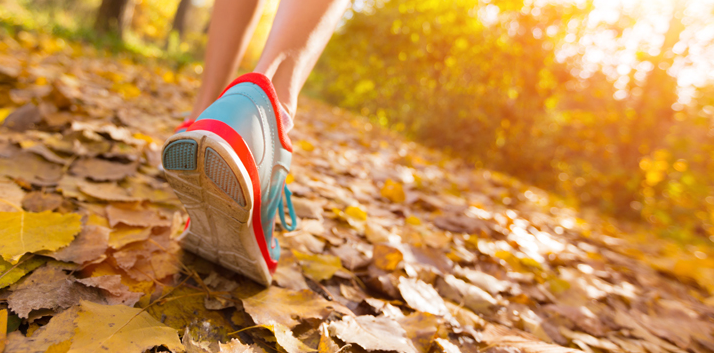 Healthy Shasta aims to encourage people to walk more for both transportation and recreation while working behind the scenes to support the creation of environments that make walking easier, safer and more convenient for transportation and recreation.
Did you know you can meet physical activity recommendations for better health by walking briskly for 30 minutes a day, at least 5 days a week? These bouts of physical activity can be broken into 10 minutes segments – such as walking during your break at work or walking 15 minutes of your commute each workday.
For more information contact Cameron at 530-229-8456.