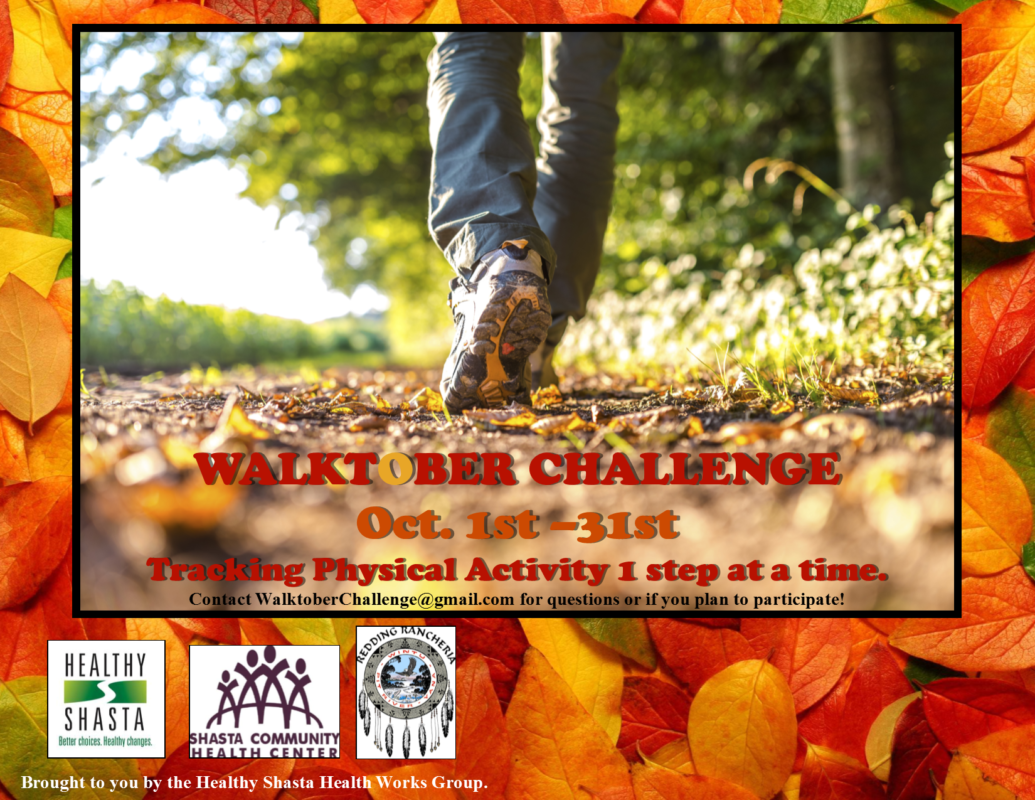 Join the Walktober Challenge, Oct 1-31
Healthy Shasta's Health Works group is excited to invite you to participate in this year's Walktober Challenge – friendly, inter-agency worksite wellness challenge.
The challenge runs the entire month of October. Track steps, similar to a pedometer challenge except you can convert your physical activity (bicycling, kayaking, etc.)  into steps using our activity convertor.
Join Redding Rancheria, Shasta Community Health Center, Shasta County HHSA Public Health, and others in our mission to provide employees with opportunities to engage in more physical activity with this fun and easy competition! We welcome all workplaces and encourage anyone to join.
Will there be prizes for participating? Yes, you can count on prizes again this year. All individuals who participate will be entered into a drawing were winners will be randomly selected (prize info coming soon).
For more information and tools, visit our Walktober Challenge page.
For questions, contact  WalktoberChallenge@gmail.com or (530) 229-8456.
Current Walktober Participants:
Shasta County HHSA Public Health
Redding Rancheria
Shasta Community Health Center
Shasta County Office of Education
Shasta Head Start
California Department of Fish and Wildlife
Office of the Director Shasta County
Shasta Mosquito and Vector Control District
Tree of Life International Charter School
Caltrans
Shasta County Sheriff's Office
First 5 Shasta
The McConnell Foundation
At the Helm Armory
United Shasta
Business and Support HHSA
Shasta Regional Transportation Agency
Shasta Family YMCA
Regional Water Quality Control Board
Shasta County Veterans Service Office
Redding City Hall
CalWORKS
California Children's Services
Enterprise Elementary School Transportation Department
Redding Police Records
Redding Electric Utility
City of Shasta Lake
City of Redding Risk Management
Turtle Bay Exploration Park
City of Redding and Managers Office
Empire Outpatient Service
Regional Services Branch HHSA
Opportunity Center Shasta County
North Cottonwood YMCA Preschool
Don't see your workplace? Let us know!