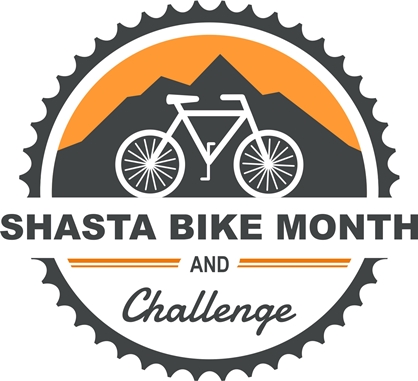 Shasta Bike Challenge, May 1-31
The Shasta Bike Challenge is a collaborative effort of the bicycling community to engage new, old, and current cyclist to ride as much as they can whether it is for transportation or just for fun! Participants can register as an individual or join a team on our tracking platform, Love to Ride. The challenge is free and all level of riders are welcomed!
This year's 2019 Challenge is from May 1st to 31st. All participants are entered into a free drawing for great prizes each day they ride their bicycle to work, school, or wherever they may want to go (up to 31 entries)!
Our local  Shasta Bike Challenge is tracked on the Love to Ride platform, a partner in conjunction with the National Bike Challenge. The tracking platform allows participants to easily log and track trips with current leader board rankings based on mileage and points.
The purpose of the local bike challenge is to get more people on bikes for all the reasons: healthier, happier people; more livable communities; improved air quality; drivers getting use to seeing people on bikes; more people riding and more of a political voice for cycling and improving bicycling infrastructure, etc, etc, etc.
Rides will be tracked and logged on the National Bike Challenge platform, Love to Ride.
Love to Ride are online bike challenge experts and already run bike challenges around the world. They have teamed up with the National Bike Challenge to make improvements so the bike challenge will be more exciting and ultimately more successful at encouraging more people to ride, more often. For more information about the challenge, visit Love to Ride.
For a list of the Shasta Bike Month Events, click here.