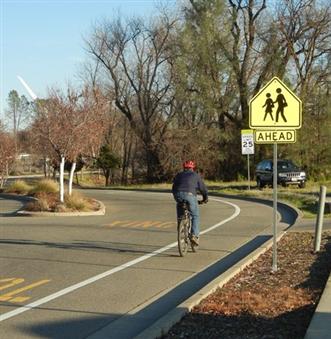 Shasta College Bicycling & Walking Studies
The Shasta College Transportation Survey was completed in 2013. A
collaborative effort of Shasta College's Office of Research and Planning
with Healthy Shasta. Over 800 respondents completed the survey, at least 80%
of which were Shasta College students. Click here to view the full report.
On September 23, 2013, a workshop about improving Bicycling and Walking took place at Shasta College. It was facilitated by Paul Zykofsky of the Local Government Commission and Charlie Alexander of Fehr & Peers. The workshop included a presentation on creating walkable and bicycle-friendly communities, a walking audit to identify opportunities for walking and bicycling on campus, and a 'design table' exercise for participants to share ideas for improving conditions for walking and bicycling at Shasta College. A memo from Ferh & Peers summarizes the findings.
The Shasta College / Old Oregon Trail Bikeway Feasibility Study was completed by Fehr & Peers in 2014 with funding through Ca4Health and the Centers for Disease Control and Prevention. Local partners are pursuing implementation of Alternative 5 to greatly improve bicycle and pedestrian safety and to provide bicycle facilities to make it more convenience and inviting for bicycling to, from and on Shasta College Main Campus. The proposed project would fill a critical gap in bikeways between the Shasta College campus and existing bicycle lanes on Old Oregon Trail and College View Drive, add crosswalks at the main entrance and other key locations, and add a bikeway on campus from the entrance to the core. Funding is being sought.
For more information email Healthy Shasta.