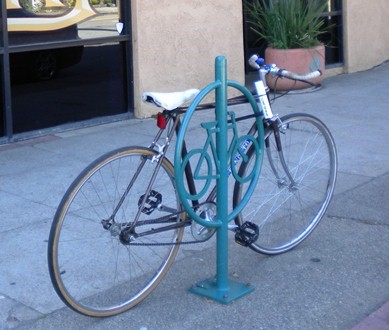 Viva 10 Years of Bicycle Parking Photo Contest
We challenge you to get out and explore Bike Racks throughout Shasta County (thanks to Viva Downtown and Healthy Shasta) and win 5 gift cards to local businesses and 25 Viva Downtown Discount Cards for Redding.
CONTEST RULES: Simply take your own photo of one of the many bike racks  around town and upload it onto Facebook and/or Instagram with the hashtag #HSVivaBikeParking including the location (ex: by the Cascade Theater) by midnight on Sunday, September 29, 2019. *Winners will be randomly chosen. Post must be public. Picture should include persons or bike. Photos must be of one of the "Healthy Shasta-Viva" style bike racks (see photo above).
BRIEF HISTORY: Viva Downtown Redding and Healthy Shasta are celebrating 10 years of collaboration to make bicycle parking easier and more attractive in our community. Ten years ago, Viva Downtown Redding's Design Committee created a great design for bicycle racks, both attractive and functional. They teamed up with Healthy Shasta to get funding for the bike racks and to work together, in conjunction with the City of Redding, to choose locations and getting them installed at key locations downtown. The bike racks are fabricated right in Downtown Redding at Gerlinger Steel.
Map of local bike rack locations in Shasta County, click here.
For any questions or suggestions on where you would like new bike parking or if you know of bike parking not yet on the map, please call 229-8243
Viva Downtown is a Main Street America organization dedicated to enhancing the cultural, social and economic development of Downtown Redding. Visit www.vivadowntownredding.org