Join A Walking Challenge
Shasta Walks 2020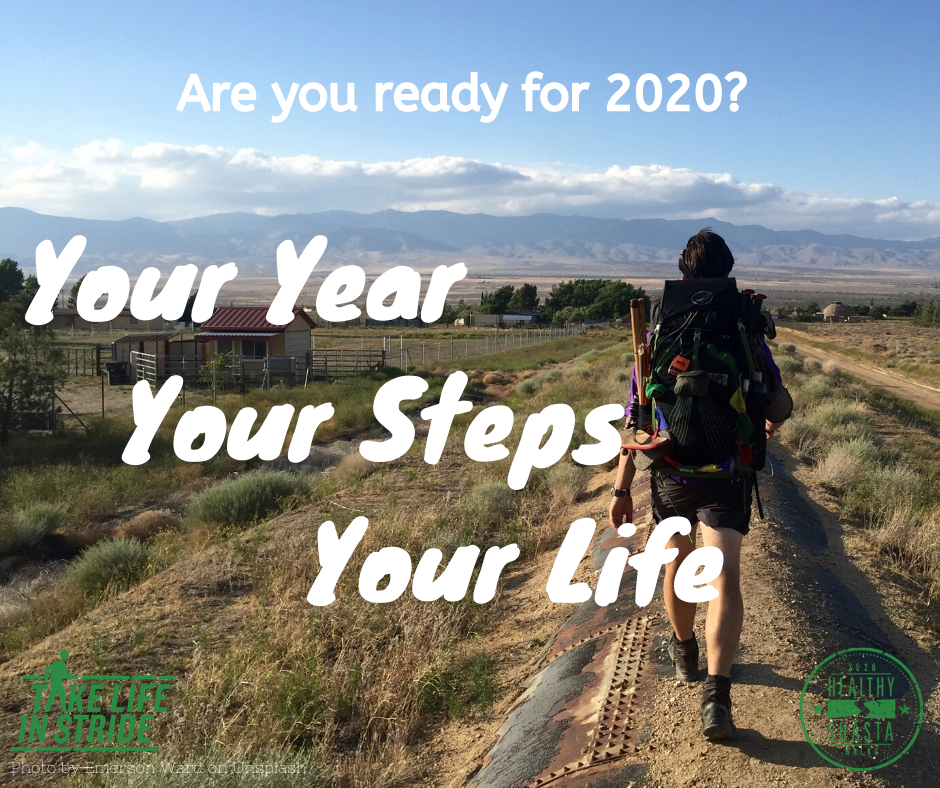 Shasta Walks 2020 is a series of walking challenges and community events. Track your steps and join fun walking challenges throughout the year using Walker Tracker . 
Pacific Crest Trail Challenge
Beginning in January, you can make a New Year's resolution to walk more and begin a virtual trek along the Pacific Crest Trail (PCT) using the Walker Tracker platform. Can you walk the PCT in 9 months or less?
Track your walking progress over the next 9 months as you "trek" through a virtual map of the Pacific Crest Trail (PCT) using the Walker Tracker platform. This is a self-challenge meant to challenge yourself.

What are your goals? Set personal walking goals and track your progress using Walker Tracker. Walk the PCT Challenge using the platforms virtual map, and use it to join other challenges throughout the year.
This is your year, your steps, and your life! Start your new healthy habit with one step at a time.

All participants who complete the challenge by September will receive a walking bandana. Participants will be contacted when the challenge ends.

Our program url is www.HealthyShasta.WalkerTracker.com
Please contact admin@healthyshasta.org or 229-8456 for questions.
What is Walker Tracker?
Walker Tracker is an online step tracking platform that integrates map-based step challenges & corporate wellness challenges. The platform  integrates with step counters & pedometers like iPhone, Apple Watch, Fitbit, Garmin, & Google Fit.
Watch this video and learn more about our tracking platform.
For trouble shooting with the Walker Tracker platform, please visit the support page.
Walker Tracker Frequently Asked Questions
Visit Frequently Asked Questions on Walker Tracker for a list of helpful information.
Previous Walking Challenges
Healthy Shasta Walks Passport
Congratulations to all our Healthy Shasta Walks Passport winners! The passport featured various walks and walking activities people could try to be more active throughout the day.
Participants who completed at least 10 walks on the Walks Passport were eligible for PRIZES. The grand Adventure Package was awarded to Dick R. Those who completed all 25 walks by blacking out their passport were be entered into an additional drawing for gift certificates from Fleet Feet for new sneakers.
Thank you to everyone who participated in the Healthy Shasta Walks Passport Challenge!! Find the results here "Healthy Shasta Walks Passport Results"
Walktober Challenge Results 2019
Check out the Walktober Challenge results. For the full report, see Walktober Final Results .
Total Participants: 869
Total Workplaces: 40
Total Steps: 194,154,447 steps (approximately 97,077,224 miles walked)
This year's Walktober Challenge was the biggest since inception in 2016. With the largest number of participants and most workplaces to date, workplaces really walked the walk.
For our large workplaces, Lassen View School walked away with 1st place with 24 participants averaging 9,023 steps a day. This was Lassen View School's first time participating. For our small workplaces, our previous winner, Shasta Mosquito and Vector Control District, left all other teams in the dust with 12 participants averaging 14,293 steps a day. Both workplaces will receive the traveling Walktober trophy and get a Bike Blender smoothie party.
We also had a handful of teams with an impressive amount of participation. Shasta Community Health Center had over 128 participants averaging 7,385 steps a day. Redding Rancheria had 118 participants averaging 6,742 steps a day.  Caltrans District 2 brought in 87 participants with an average of 6,640 steps a day. City of Redding had 58 participants who walked an impressive average of 8,209 steps a day.
Walktober Challenge Information 2019:
Basic Info
(All participants must currently live or work in Shasta County.)
Tracking
The Walktober Challenge was tracked on the Walker Tracker platform. This online platform provides a virtual map-based tracking step challenge with social interaction, making it one of the most fun ways to track your progress and challenge others. During our challenge, we will be crossing the United States with stops in some of our amazing National Parks. This year we tracked steps only (walking, running, etc.).
What did the winning team receive?
The winning workplaces received our traveling Walktober trophy (currently held by United Shasta and Shasta Mosquito Vector Control District) along with a Bike Blender Smoothie Party provided by Healthy Shasta.
*Winning organization is based on total steps divided by total participants. If your workplace/organization has multiple teams, they will combined for final results.

What were the prizes for participating?
All individuals who participated were entered into a free drawing where winners will be randomly selected.
Prizes included:
Benton Scenic Flights (30 minute flight)

1 Night Stay at Win-River in Chairman Suite +$80 Dinning & Mini Mart Gift Card

$100 Win-River Spa Gift Card

Fit Bit Inspire HR

YMCA Personal Trainer (60 min session)

National Parks Year Pass

Holiday Market Gift Card
Bonus Prizes (given through out the Challenge):
Shasta Athletic 3-Month Family Membership

Headwaters Kayak Rentals

Rare Air Trampoline Park Passes

Turtlebay Passes
(All participants must currently live or work in Shasta County to participate and be eligible for prizes).