Join A Walking Challenge
Healthy Shasta's Walktober 2022 Challenge is Coming Soon!
What's more fun than walking? Walking for a team challenge, of course. The Walktober Challenge is back, and October is a perfect time to get active, win prizes, and support local charities.
Find a team of coworkers, friends, family, school clubs, neighborhood groups, or any collection of people. If your worksite has never done Walktober or maybe it's been a while, Walktober is an opportunity to build comradery and encourage workplace wellness. Use the platform to walk as a worksite team or start a friendly competition between coworkers with multiple teams.
It is free to sign up. Active participants are eligible for prize drawings of gift cards and Whiskeytown/Lassen National Park passes. Winning teams receive cash donations for charity. Must live or work in Shasta County to win.
Follow Healthy Shasta on social media for updates and check back here for more information on how to start or join a walking group with coworkers, friends, or family. Sign-ups will be open starting September 12, 2022.  Let the fun begin on October 1st.
Healthy Shasta Walks Passport
Start the New Year off on the right foot! Make the Healthy Shasta Walks Passport one of your new year's resolutions starting January 1, 2021!  Stay tuned to our social media announcing the launch.
Download and print your Walks Passport
Complete 10 or more walks for prizes and a pair of athletic socks! (black it out and qualify for the grand prize!)
Email to: admin@healthyshasta.org by midnight on March 1, 2021
Or mail to: Healthy Shasta, 2660 Breslauer Way, Redding 96001, post marked by March 1, 2021
Prizes announced by March 15, 2021
Prizes include:
Everyone who completes a passport will get a pair of athletic socks (while supplies last)
10 – $125 gift cards to Fleet Feet Redding for new sneakers
2 – $25 gift cards to Fleet Feet Redding
Stand Up Paddle Board lesson
5 – $50 local restaurant gift cards
1 night stay at Win River Resort and Casino, plus $20 in dining
Grand Prize: 1 night stay in a caboose at the Dunsmuir Railroad Park Resort
Previous Walking Challenges
Walktober 2020 Wrap Up
Walktober annual walking challenge was a huge success!  Many individuals won prizes for taking on extra challenges like walking a specific trail and just for being out there walking! Team captains earned socks for coordinating and motivating their team. If you were a team captain, contact Redding Recreation to pick up your socks at 225-4095.
868 participants on 131 teams
120 active teams
29 teams met the Walktober Challenge Goal of 8,000+ steps/day
175,238,530 steps walked
Congratulations to the winning team: Dead Last Corps with the Shasta County Sheriff's coroner's office! Team members took an average of 14,599 steps/day (almost double the daily Walker Tracker goal!). They won $1000 toward a charity of their choice (they chose to split the funds between the Jeremy Stoke Legacy Foundation and Girls Inc. of the Northern Sacramento Valley).
Congratulations to Kathy Key, winning individual who took

814,978 steps, that's 356 miles,

in just 31 days, from Team Juniper Friends & Family! She won $500 toward her charity of choice, One Safe Place.
Healthy Shasta Walks Passport 2019
Thank you to everyone who participated in the Healthy Shasta Walks Passport Challenge!! Find the results here "Healthy Shasta Walks Passport Results"
Walktober Challenge Results 2019
Check out the Walktober Challenge results. For the full report, see Walktober Final Results .
Total Participants: 869
Total Workplaces: 40
Total Steps: 194,154,447 steps (approximately 97,077,224 miles walked)
For our large workplaces, Lassen View School walked away with 1st place with 24 participants averaging 9,023 steps a day. This was Lassen View School's first time participating. For our small workplaces, our previous winner, Shasta Mosquito and Vector Control District, left all other teams in the dust with 12 participants averaging 14,293 steps a day. Both workplaces will receive the traveling Walktober trophy and get a Bike Blender smoothie party.
We also had a handful of teams with an impressive amount of participation. Shasta Community Health Center had over 128 participants averaging 7,385 steps a day. Redding Rancheria had 118 participants averaging 6,742 steps a day.  Caltrans District 2 brought in 87 participants with an average of 6,640 steps a day. City of Redding had 58 participants who walked an impressive average of 8,209 steps a day.
Walktober Challenge Information 2019:
Basic Info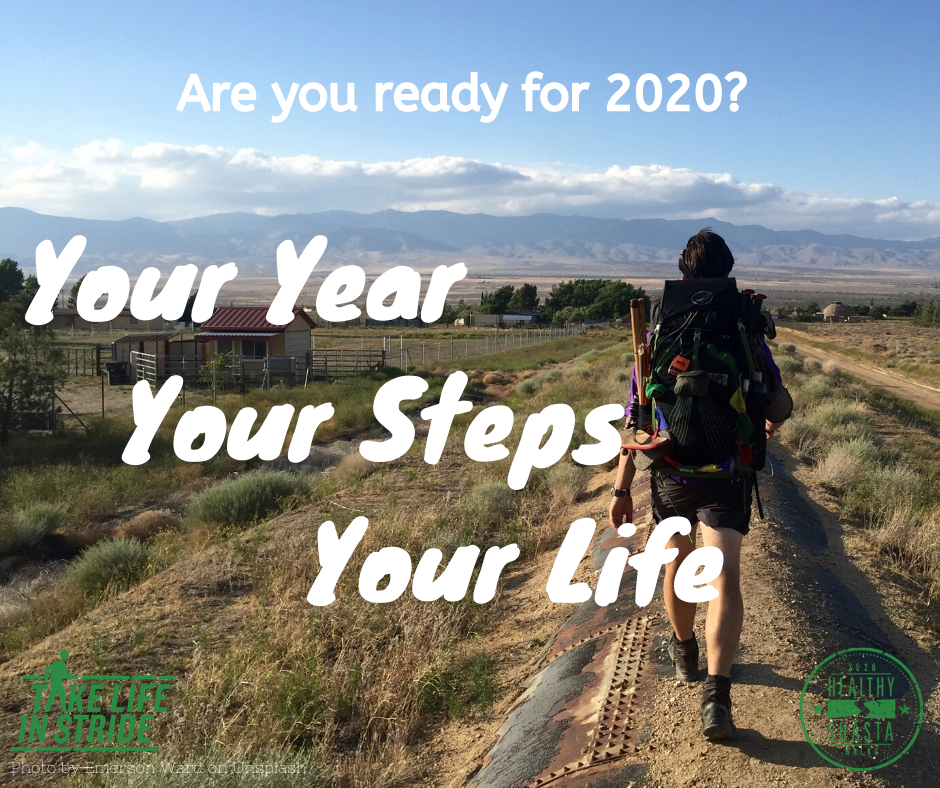 Shasta Walks is a series of walking challenges and community events. Track your steps and join fun walking challenges throughout the year using Walker Tracker . 
Pacific Crest Trail Challenge
Beginning in January, you can make a New Year's resolution to walk more and begin a virtual trek along the Pacific Crest Trail (PCT) using the Walker Tracker platform. Can you walk the PCT in 9 months or less?
Track your walking progress over the next 9 months as you "trek" through a virtual map of the Pacific Crest Trail (PCT) using the Walker Tracker platform. This is a self-challenge meant to challenge yourself.

What are your goals? Set personal walking goals and track your progress using Walker Tracker. Walk the PCT Challenge using the platforms virtual map, and use it to join other challenges throughout the year.
This is your year, your steps, and your life! Start your new healthy habit with one step at a time.

All participants who complete the challenge by September will receive a walking bandana. Participants will be contacted when the challenge ends.

Our program url is www.HealthyShasta.WalkerTracker.com
Please contact admin@healthyshasta.org or 229-8456 for questions.
What is Walker Tracker?
Walker Tracker is an online step tracking platform that integrates map-based step challenges & corporate wellness challenges. The platform  integrates with step counters & pedometers like iPhone, Apple Watch, Fitbit, Garmin, & Google Fit.
Watch this video and learn more about our tracking platform.
For trouble shooting with the Walker Tracker platform, please visit the support page.
Walker Tracker Frequently Asked Questions
Visit Frequently Asked Questions on Walker Tracker for a list of helpful information.