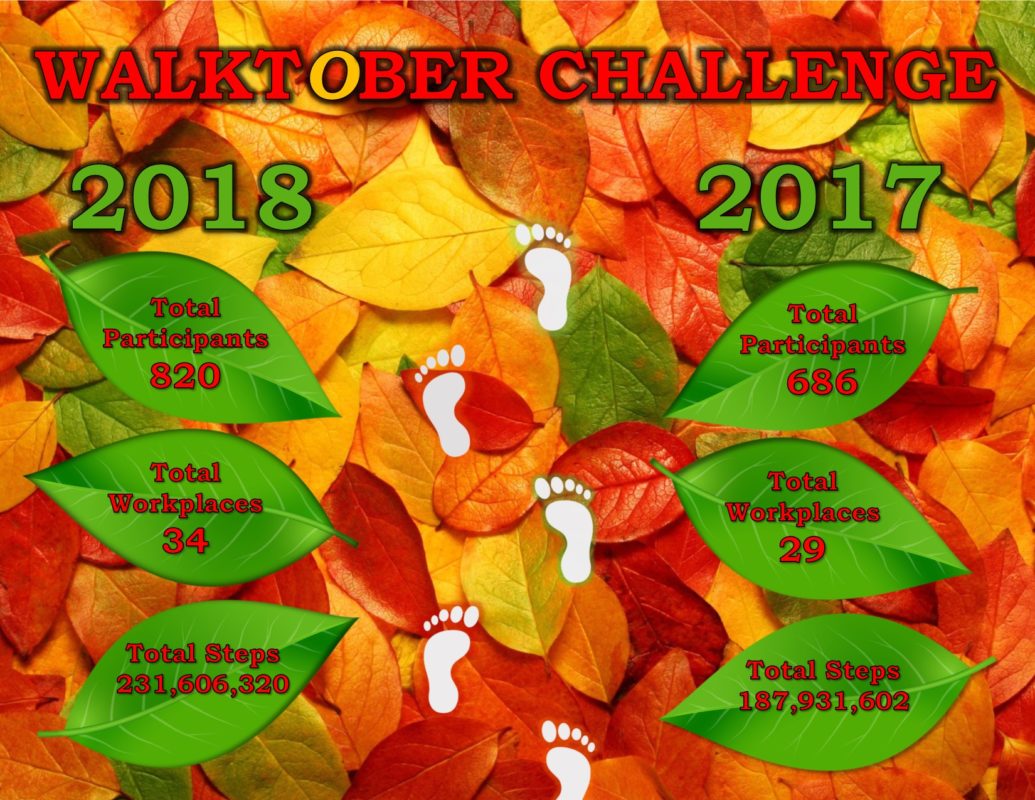 Walktober Challenge Encourages Workplaces in Shasta County to Sit Less and Move More
SHASTA COUNTY- With 820 participants from 34 different workplaces throughout Shasta County, the results flew beyond expectations. The Walktober Challenge influenced the health of employees in Shasta County by encouraging participants to be more active.  With total steps reaching an estimated 115,803 miles, Walktober participants took enough steps to make it nearly half way to the moon!
Healthy Shasta's Health Works group organized the Walktober Challenge to encourage participants to move more and sit less. The challenge targeted individuals, coworkers, family and friends to be more active, but specifically at work. The challenge aimed to engage employees in becoming healthier, happier and more energetic at work with a purpose to encourage healthier lifestyle behaviors.  Overall, evidence demonstrates that compared to less active adults, people who are more active have lower rates of coronary heart disease, high blood pressure, stroke, and type 2 diabetes.
United Shasta and Shasta Mosquito Vector Control District took first place in the challenge for the large and small workplace. Both will receive a traveling trophy and a bike blender smoothie party for their participants. This is the 2nd year in a row that Shasta Mosquito Vector Control District has won the challenge for small workplace. Seven other participants were randomly selected for prizes that included YMCA personal trainer sessions, Red Bicycle Catering Family Dinners to Go, Fit Bit, and the Grand Prize which includes a Win River One Night Stay in Chair Suite + $50 Dinning Gift Card + $50 Mini Mart Gift Card + $50 Spa Gift Card + Free Ultimate Car Wash. The Walktober Challenge will return in October 2019.
For more information, please contact WalktoberChallenge@gmail.com
The full Walktober Challenge results can be found here.
The Walktober Challenge is organized by Healthy Shasta's Health Works group, a network of partners that foster a supportive work environment that encourages healthy lifestyles.