Tips & Resources
Bicycle commuting can be a great way to save money, stay fit, fight pollution, and enjoy your commute. Many trips that are less than 3 miles may even take less time by bike than driving!
I've never commuted by bike…where do I start?
Make sure your bicycle is in good working condition (check tire pressure, brakes, etc).
Use a well-fitted helmet that covers your forehead and wear it buckled.
Decide how you will carry anything you need to bring with you. Many people use a rack on the back of their bicycle, pannier bags, or a backpack. Some people drive to work early in the week and leave extra clothes, food, or items for the week, then commute by bike on other days.
Know where you can park your bike securely (indoors or out) and bring a good bike lock, such as a U-lock.
Charge your lights and make sure they are working if any of your commute will be in the dark. Running lights in the daylight is a good idea too.
Choose a good route. The route you take by bike may be different than the route you take by car. Take traffic, vehicle speeds, road condition, shortcuts and trails, and hills into account.
Take a look at the following tips before heading out on the road: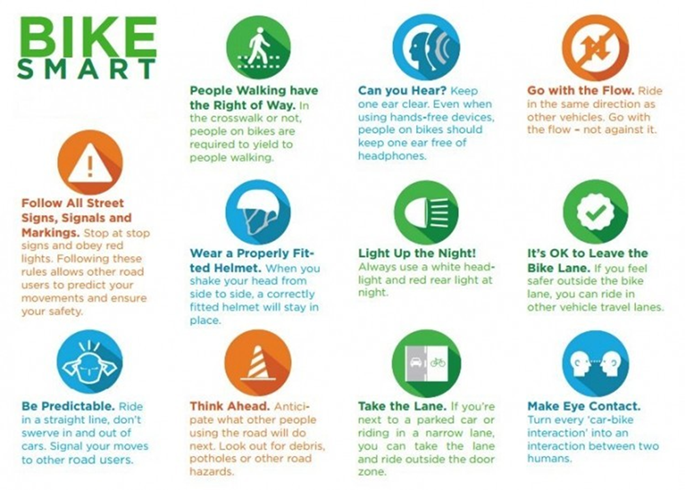 Resources for bicycle commuting
Plan your route
Check out the Bike Redding Map to plan your route.
Or explore local trail maps to use trails to get where you want to go.
Did you know that the Sacramento River Trail provides a paved non-motorized route from Dana Drive/Hilltop all the way to Shasta Dam, with connections to Bechelli Lane, Benton, Old Shasta, and many neighborhoods and parks in between?
Resources for Team Captains
Get Involved Beyond Bike Month
Continue to ride a bike for fun and transportation!
Check out local recreation and bicycling clubs in the area at Recreation Groups.
If you see a problem (or something you really like!) with a trail, road, or intersection in Redding, let the city know at Service Request.