SHASTA BIKE MONTH & CHALLENGE
Shasta Bike Challenge Results
The results will be announced by email and social media during the first days of June . All trips must be entered by May 31st, 11:59 p.m.
Bike Challenge Celebration
IMPORTANT: The Shasta Bike Celebration at Chain Gang scheduled for June 5th has been cancelled. We are sad to make the announcement but so happy at the results of this year's Shasta Bike Challenge.  Results will be announced following the end of the challenge. Stay tuned.
Shasta Bike Month Celebrates 31 days biking!
May was bike month! In honor of this, Shasta County celebrated the month with the Shasta Bike Challenge, 31 days of riding.
What is the Shasta Bike Challenge?
The Shasta Bike Challenge is a collaborative effort of the bicycling community to engage new, old, and current cyclist to ride as much as they can whether it is for transportation or just for fun! Participants can register as an individual or join a team or workplace for the local challenge through the National Bike Challenge platform. The challenge is free and all level of riders are welcomed! On June 5th, the top three workplaces, teams, and individuals will be announced and awarded a certificate at the Shasta Bike Month & Challenge Celebration at Chain Gang.
This year's 2020 Challenge is from May 1st to 31st. All participants are entered into a free drawing for great prizes each day they ride their bicycle to work, on errands, for exercise, or wherever they may want to go (up to 31 entries)!
The local  Shasta Bike Challenge is tracked on the National Bike Challenge platform. The tracking platform allows participants to easily log and track trips with current leader board rankings based on mileage and points. Individuals, workplaces, and teams can compete with each other locally and/or just participate for fun.
All participants that live-in Shasta County will help our community rank up in miles and points for the National Bike Challenge where we compete against many other communities across the Nation. In 2019, Shasta County  ranked #2 Nationally at the end of May for its population size, and 4th overall in the National Bike Challenge, beating out much larger communities. In 2018, Shasta County ranked #2 overall Nationally. Every mile and every day of riding helps Shasta County inch closer to be the top contender in the National Bike Challenge and be recognized as the top cycling community in the Nation during Bike Month. Ride on!
IMPORTANT: Due to our ever changing circumstances during this unprecedented time, Shasta Bike Month events and social rides have been postponed or cancelled based on direction of the government and national and local health officials. We will continue to make updates following any changes.
Prizes
All Shasta Bike Challenge participants are entered into a free drawing for great prizes each day they ride their bicycle to work, on errands, for exercise, or wherever they may want to go (up to 31 entries)! Winners will be announced by email and social media. All participants can also receive free Shasta Bike Challenge Socks socks or a pint glass. More information and details coming soon!
Some of this year's prizes include:
Trek Dual Sport 3 Quicksilver Bike
One Night Stay at the Sheraton Sundial Bridge Hotel
Lake Shasta Cavern's Family Passes
Headwaters Adventure Kayak Rental Passes
Strider 12 Sport Balance Bike
Mosaic Gift Card
Rare Air Trampoline Park Passes
Turtle Bay Passes
Churn Creek Meadow Organic Farm Small Gourmet Market Box
And more bike swag and gear!
Steps to Register
Register for the Shasta Bike Challenge at www.lovetoride.net/shasta. Registration steps can be found at the National Bike Challenge. Its simple and easy.
All rides are tracked and logged on the  National Bike Challenge platform..
COVID-19 UPDATE
The Shasta Bike Month & Challenge fully support the Government's advice to stay at home to slow the spread of Coronavirus. All nonessential outings are to be avoided. Only essential travel is now permitted. You can still go out to pick up groceries, medicine or take care of essentials such as banking or visiting your doctor or EXERCISING TO STAY HEALTHY (yes, this includes cycling). People working in 'essential' industries can also travel to/from work but they're advised to avoid congested public transport.
In all these cases, we encourage you to bike there. Ride your bike as your main mode for essential travel and as a fun, enjoyable form of exercise. 
Riding a bike has so many benefits for our physical and mental health. It helps combat stress and anxiety, releases happy chemicals and strengthens our immune systems. Be smart, ride smart.
Do indoor rides count?
During these unprecedented times, we completely understand that some people can't go outside and ride a bike at the moment as they are in a high risk category as it relates to Covid-19. Unfortunately, we cannot make an exception for indoor rides on a stationary bike or trainer for this particular challenge. We do highly encourage you to still continue to ride for exercise indoor if you cannot get outside but your rides and miles will not count for the Bike Challenge.
Looking for someone to ride with?
Check out one of these local organizations who would love to ride with you.
Shasta Wheelmen
Shasta Living Streets
Redding Trail Alliance
Local Recreation Opportunities
Not sure where to ride? We got you covered. Check out the Local Map Listings for a list of local trails.
Looking for a Mountain Bike trail to ride with a full map description? Check out the BigFoot Mountain Bike Challenge routes and maps.
Last Year's Final Results 2019
The 2019 Shasta Bike Challenge was another year for the record books. With the local challenge lasting the entire month of May, 786 local riders pedaled out enough miles to cross the United States over 40 times…that's 115,928 miles… Shasta County was ranked #2 Nationally at the end of May for its population size, and 4th overall in the National Bike Challenge, beating out much larger communities. Shasta County was the 3rd largest participant in the National Bike Challenge during bike month. Check out the full details of the Shasta Bike Challenge Results 2019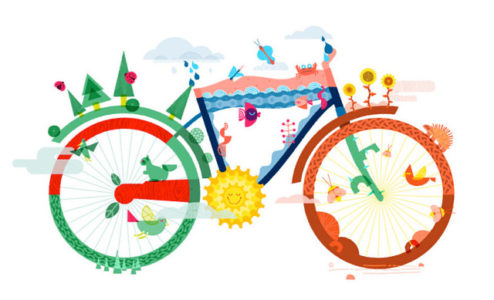 "Nothing compares to the simple pleasure of riding a bike."