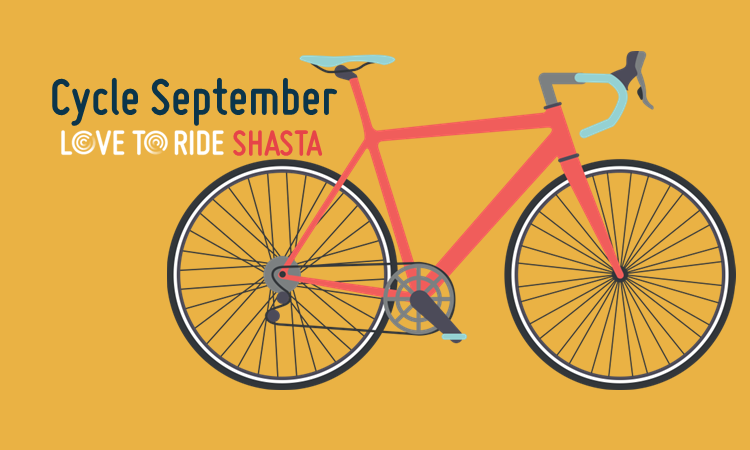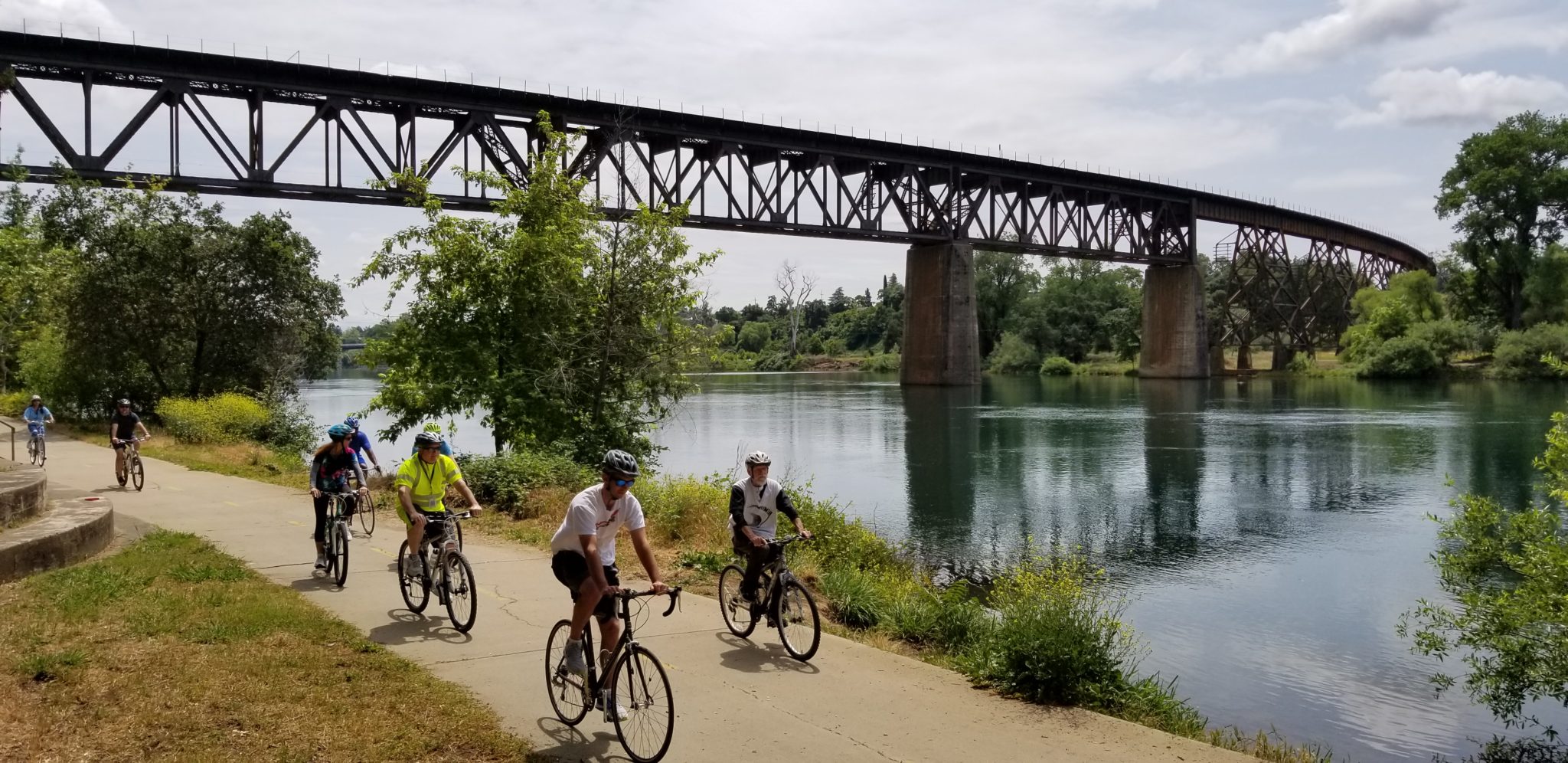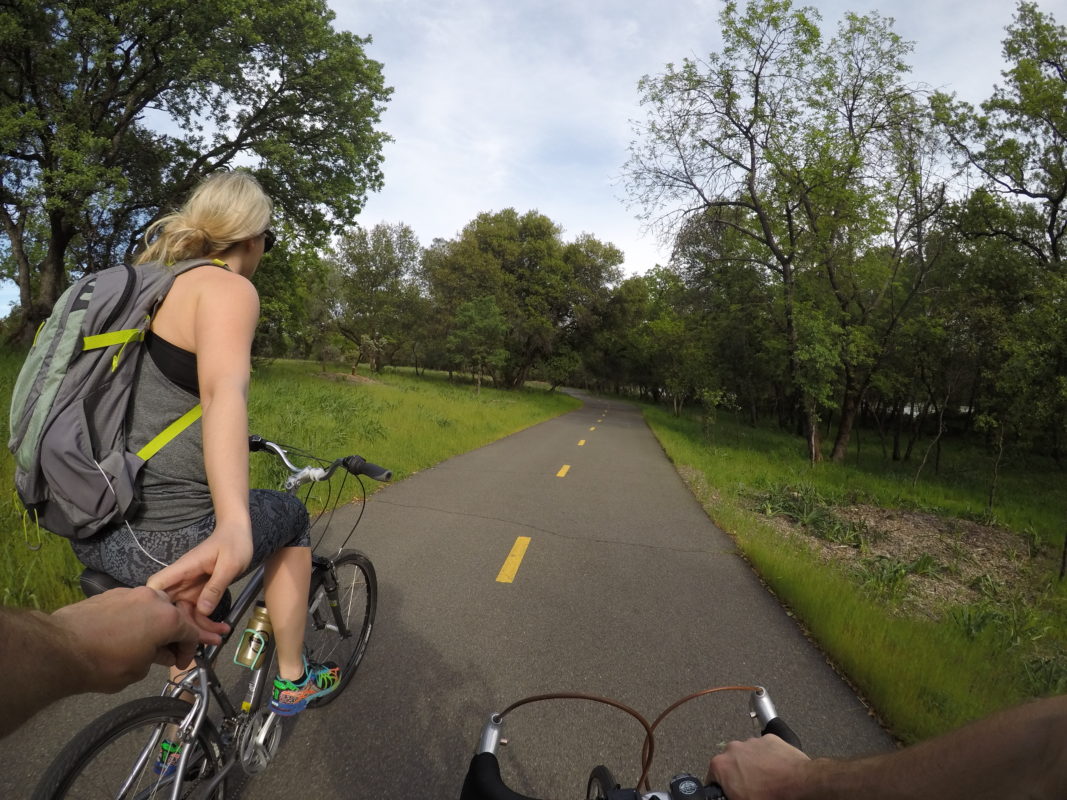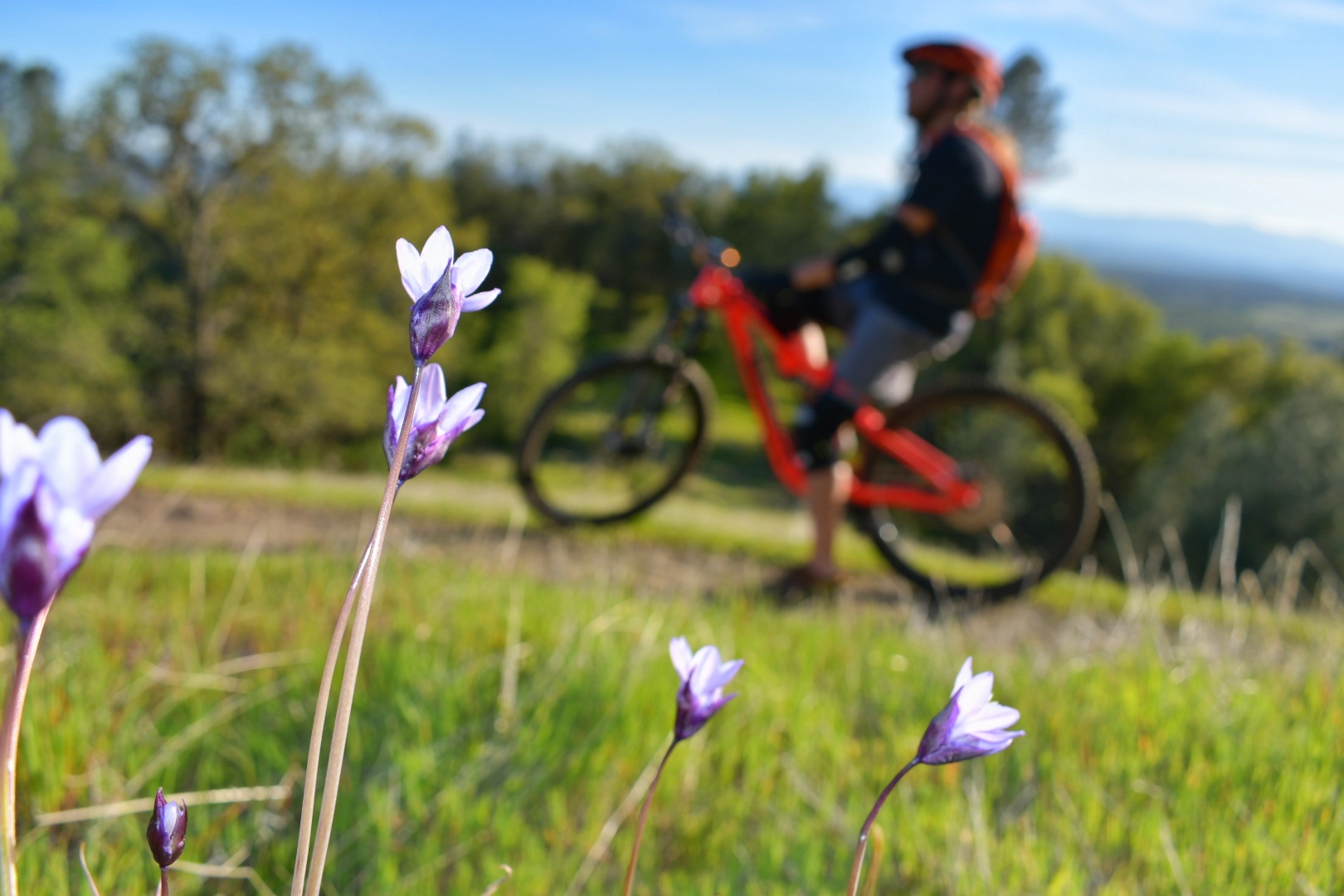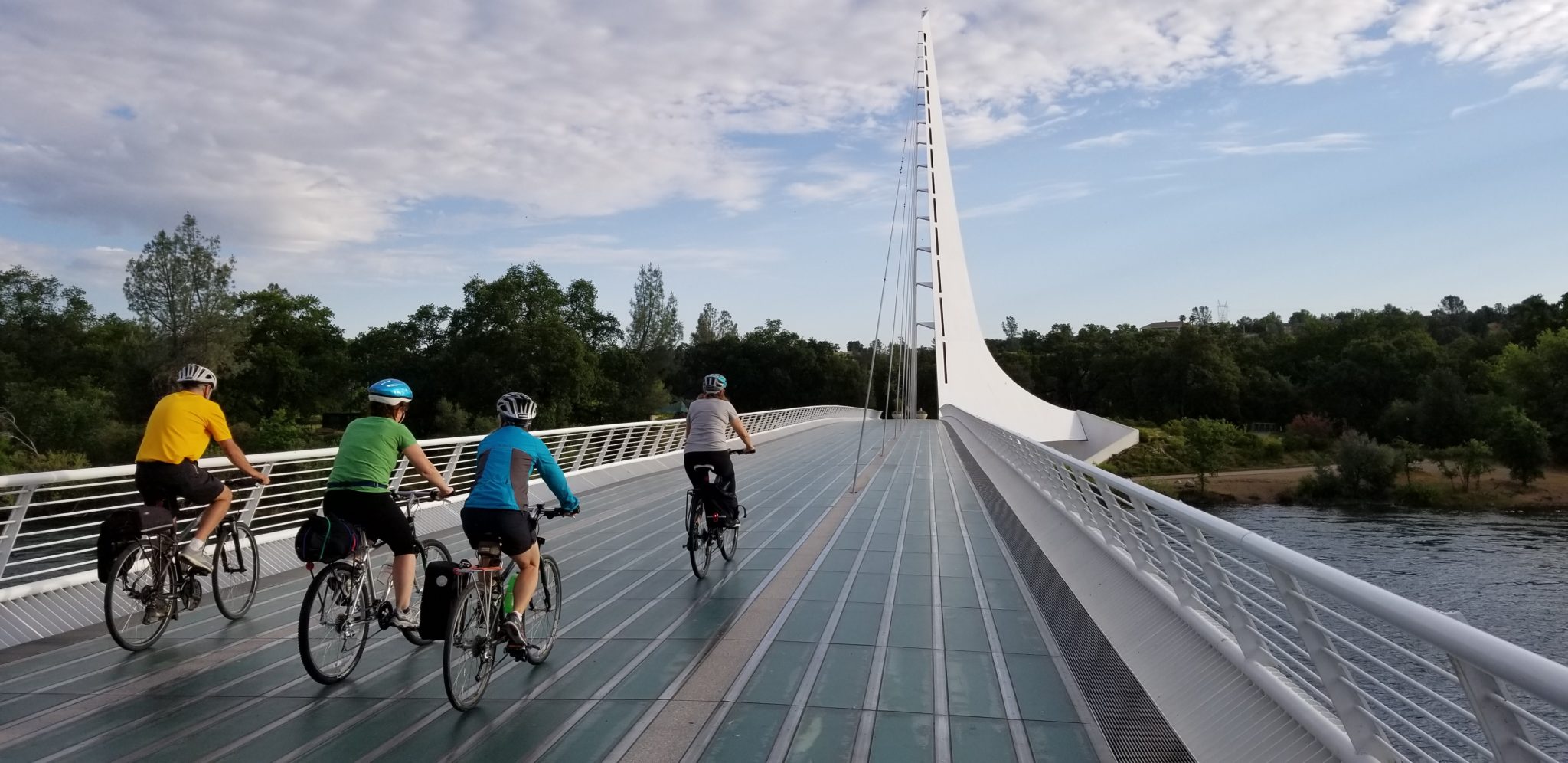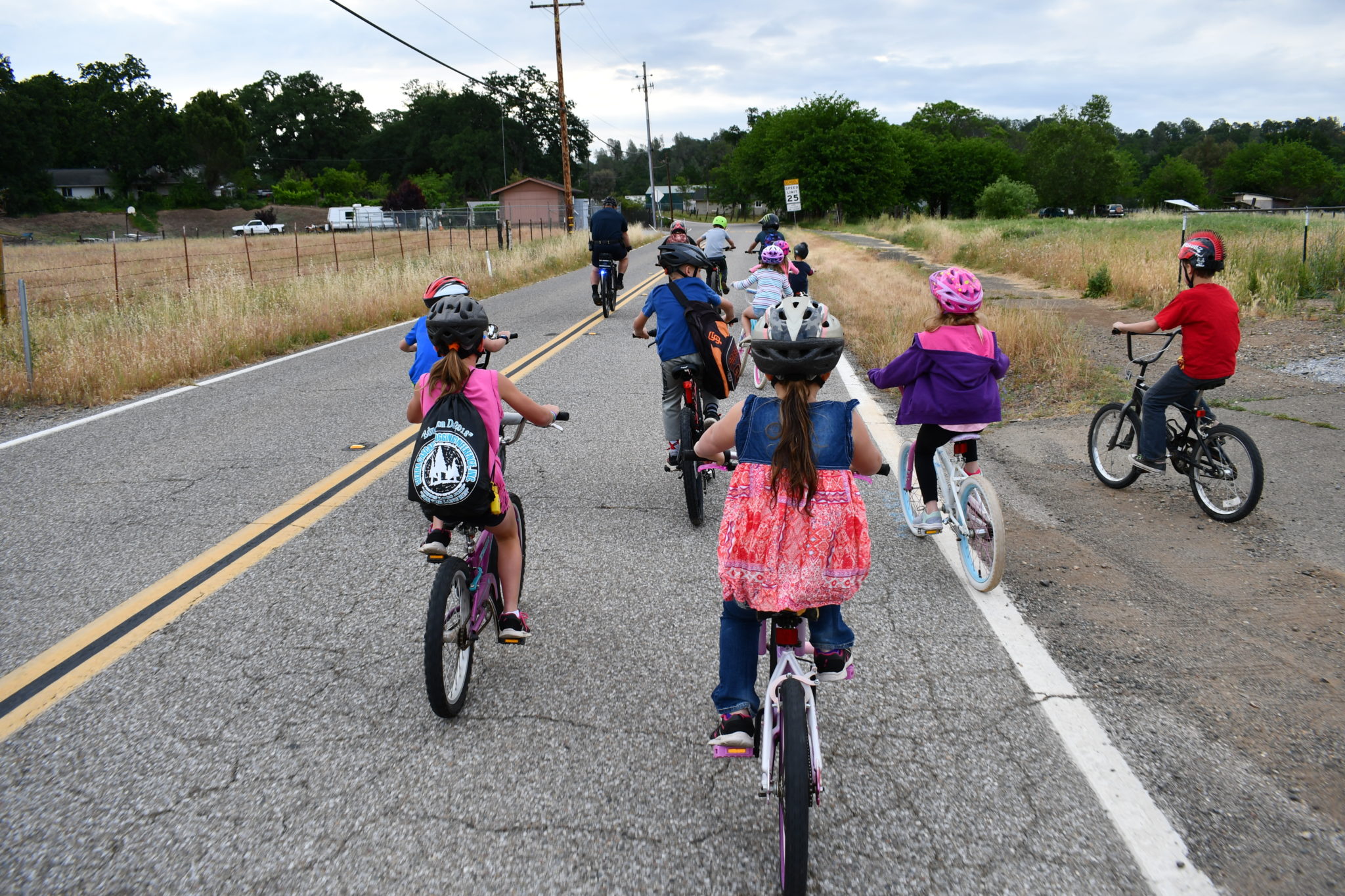 SHASTA BIKE MONTH & CHALLENGE
Cycle September Results and Winners!
Redding/Shasta County ranked 2nd in the 75-150k residents category behind Fayetteville, AR. Great job riders!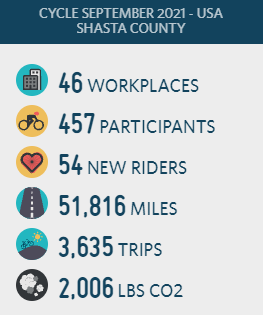 2 people rode all 30 days in September
28 people rode 20+ days in September
30 groups participated
Cycle September 2021 Winners
Workplaces: Most points
2000+ staff= Dignity Health: 1,346 points
500-1999 staff= 

Shasta County HHSA:

4,935 points  
200-499 staff=CAL FIRE Smoke Chasers-21: 5,475 points  
50-199 staff= Jacobs Engineering, RDD: 1,270 points
20-49 staff= 

Nichols, Melburg & Rossetto:

2,044 points  
7-19 Staff= Shasta Physical Therapy: 979 points  
1-6 Staff= JBKinc: 517 points
Groups: Most miles
31+ members
1. Shasta Wheelmen: 9,030 miles
Grant School Cougars: 1,079 miles
21-30 members
1. D2 Wheelers-2021: 957 miles
11-20 members
1. CAL FIRE Smoke Chasers-21: 1,787 miles 
2. HHSA Bikers and Buddies: 1,644 miles
3. Don't Stop Pedaling: 1,068 miles
1-10 members
1. Intermountain Cycling: 1,995 miles
2. Ladies Night Riders: 1,350 miles
3. Team CORP: 845 miles
 Individuals:
Top Encouragers
Deena S.- encouraged 5 people!
Steve P. – encouraged 4 people!
Top Commuters
Lisa F. – 20 days riding to work
Sal R. – 19 days riding to work
Most Trips
Wayne W. – 54 trips
Diego R. – 45 trips
DJ L. – 43 trips
Most Miles (Female)
Ginger C. – 820 miles
Marilyn S. – 515 miles
Nancy R. – 511 miles
Most Miles (Male)
Russ A.- 1,120 miles
Wayne W. – 836 miles
John C. – 799 miles
Most Rides with Kids
DJ L.- 15 trips
Burney L. – 12 trips
Melissa K. – 4 trips
30 days of riding- Those who rode every day of September!
---
Bike About Shasta- Northeast Crossing Trail 
Last group ride for Cycle September!
Join us on Thursday, September 30, 6:00 pm for a final ride in Cycle September. This Bike About Shasta ride will take you on the Northeast Crossing Trail, Redding's newest trail! This trail connects the Highland Park neighborhood around the northwest side of Bethel and the trail paralleling 299/Lake Blvd. Beginning at Highland Park, off Mission de Oro Drive, we will ride a short section of neighborhood street to the trailhead (approximately 1 mile). The trail is about .5 miles long and meanders through mostly flat terrain in a native oak woodland and a bridge crossing Boulder Creek. After a gentle climb, the trail ends at the intersection with the 299 trail (1.5 miles). At that point, we will turn around and head back the way we came, returning to Highland Park. If you are driving to the ride, limited parking is available on neighborhood streets. Please do not block driveways. Ride your bike to the ride and be entered into a drawing for a new rechargeable bike light. Can't make it at 6 pm or you want to explore the trail on your own? Come on out between 6:00-7:00 pm to walk or ride the trail and enjoy refreshments. Event brought to you by Healthy Shasta, the Shasta Bike Month workgroup and Parks and Recreation. Trail made possible by Shasta Living Streets, Shasta Regional Transportation Agency, and City of Redding.

Cycle September-2021
September 1-30, 2021
Get back to biking by joining the Cycle September Challenge! Cycle September is very similar to Bike Month in May…1. Sign up for the challenge on the Shasta Love to Ride website… 2. Opt in for Cycle September…3. Link your Strava account (or other compatible tracking program)….and 4. Hop on your bike!
The more rides you log, the more chances you have to win great prizes through weekly and final drawings. With school starting back up, we not only want to see workplaces commute by bike, we also want to encourage students to ride to and from school and really anytime for fun, fitness, and with friends. The schools who have active participation (with at least 10 students on a team) will be entered into a drawing at the end of September to win a bike rack for their school!
The challenge is open to all Shasta County high schools, colleges, workplaces, social groups, and individuals 13 years of age and older. The goal of the challenge is to get more people to experience the joys of riding a bike. The benefits of riding a bike include improved mental and physical health, money saved on gas and car repairs, reduced carbon emission/footprint, and countless others!
Prizes to be won include:
$100 gift cards to local bike shops
$25, $20, and $15 gift cards to local restaurants & businesses: Roots Juice Bar, Jamba Juice, The Tea Bar, Fusion, Anthony's, Carnegie's, Downtown Java, and more!
New bike gear including an ABUS Bordo Lite folding lock
YMCA and Shasta Rock Club day passes
2 YMCA month-long memberships with ability to continue without the initiation fee!
FAQs:
How do I register for Cycle September?
Who can join the Workplace team? Only current employees can join a workplace
How do I join a club/group? This includes how students can join their school's team!
How can I log my rides automatically? Connect with Strava for an easy and accurate way of logging rides! 
We acknowledge that the air quality can impact your ability to get outside and participate in physical activity. It is important to look up the air quality daily in your area and know what the numbers mean to determine if it is safe for you to be outside and riding.
A few resources you can use to determine air quality are: 
If you have an iPhone, open the 'Maps' app. In the bottom right corner of the map, you will see the current temperature reading and the AQI right under it.
AQI is the EPA's index for reporting air quality. Look at the color chart below to determine if it is healthy for you to ride outside. Remember that Love to Ride allows you to log indoor rides. So if you have access to a stationary bike, try hopping on that and logging your minutes!
*By signing up for the challenge, you will receive one email a week from the Shasta Bike Committee and occasional emails about upcoming events and/or future challenges.*
To contact the Shasta Bike Committee and Workgroup, please email shastabikemonth@gmail.com.
---
Shasta Bike Month & Challenge Results (May 2021)
Redding, CA ranked #1 nationally in the 75-150k residents category this Bike Month! We rode 69,653 miles in one month!! Great work!!
Sign up for the 2021 Shasta Bike Challenge and win prizes for simply riding your bike!
May is bike month! In honor of this, Shasta County will celebrate the month with the Shasta Bike Challenge, 31 days of riding. Wondering what the Shasta Bike Challenge is exactly? See below for more details! 
2021 Events
March 22 – April 19:

The Great Bike Giveaway!

 

Tell us your story of where an e-bike would take you and have a chance at winning an e-bike! See below for more details including the link to apply. Solicitud disponible en español abajo.
April 1 – May 31:  Big Foot Mountain Bike Challenge. Explore amazing local trails on your mountain bike! This event is inspired by riders for riders. New this year is Bigfoot Jr. to encourage the youth to "Get Out and Ride". Free to participate. Participation and cash prizes!
May 1-31: Shasta Bike Month and Challenge – sign up or Champion a worksite, school, social group, or family team. Sign up here!

May 1-31:

Scavenger Hunt. Details coming soon!

April 22:

  Celebrate Earth Day with a light, evening ride! Be ready to ride at 6pm, starting at the Sundial Bridge by the Museum Store. Anywhere between 4-10 miles depending on group.

April 23, 7-9 pm:

Whole Earth and Watershed Virtual Film Festival, which includes films with bikes!. Ticket packages include 5 days of video-on-demand viewing following the film festival (April 24 – 28th) as well as raffle tickets for a Yuba E-Cargo Bike! Consider grabbing a take-out dinner at one of Redding's fabulous restaurants before the show!

April 24, 8:30 am @ Sundial Bridge:

Are you new to cycling, haven't ridden in a while, or are looking for people to ride with?  Try Shasta Wheelmen's 'Get Acquainted Ride.' Distance 15-20 and mostly flat terrain.

April 29, 6:30 – 8 pm

:

Get your bike ready to ride! Looking for tips to fit your helmet, bike, fill your tires and check your brakes?  Check out various bike stations  to learn and get your bike in top riding condition. Must sign up to reserve your spot. Please wear a mask. Workshop held at the Chain Gang Bike Shop. Sign up available here!

May 5:

  National Bike to School Day! Shasta County students can be entered in to win a Jamba Juice gift card if they ride their bikes to school during the month of May. More info here!

May 12, 5-9pm:

Free Bike Valet @ The Park Food Truck Hub. 20% of all sales during the entire day go directly to support Redding Trail Alliance.

May 19, 5:00 – 7:00 pm:

Ride with a Transportation Official, Location TBD

May 19, 7:00 pm:

Ride of Silence, a ride to honor fallen cyclists. Sponsored by

Shasta Wheelmen

. Start at the south end of the Sundial Bridge at 7pm.

May 21:

National Bike to Work/Anywhere Day. Arrange a 'bike train' by riding to work with co-workers. See how many workers can get on the train by starting at one central location and riding to other locations/neighborhoods to pick other co-workers up to ride as a group. Or arrange a ride with co-workers during the lunch hour if it's not feasible to ride to work. Working from home and don't have an office or location to ride to?  Take time to do a break ride, a bike errand, or ride your child to school!
May 22, 10-6pm: Bike Swap at Sports LTD. Have a bike you want to sell or want to get a bike? Attend the bike swap and see what's there! More information here: BIKE SWAP 2021 | Redding Sports LTD

May 26,  11:30-12:30 pm:

Ride with a Transportation Official, Location TBD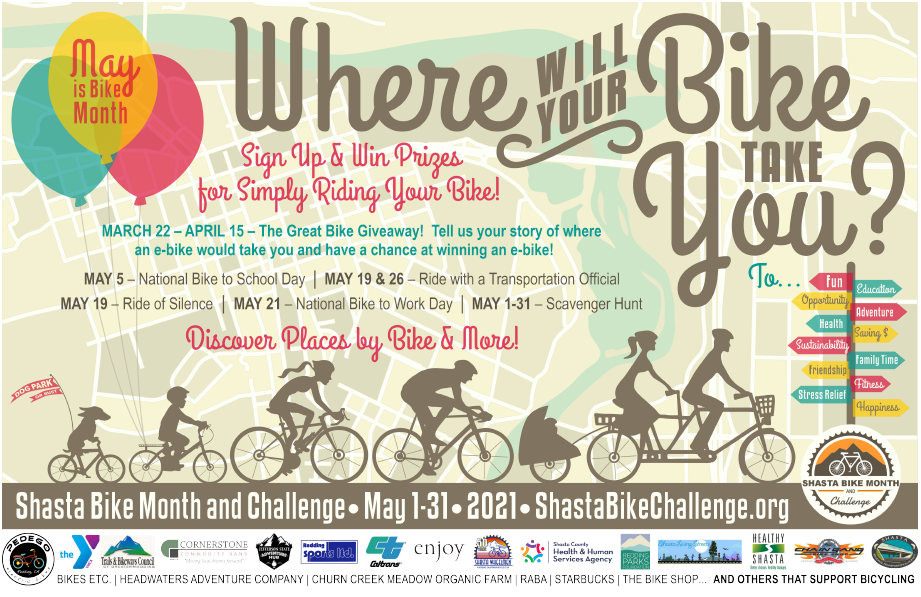 COVID-19 Precautions:

Riding a bike has so many benefits for our physical and mental health. It helps combat stress and anxiety, releases happy chemicals, and strengthens our immune systems.  It's a great way to get your daily exercise, get out in the fresh air, and feel connected with the world around you. If you're feeling unwell, stay at home, away from other people, even if you're only feeling a little unwell. Follow CDC advice on wearing masks and maintaining physical distancing of 6 feet or more.
What is the Shasta Bike Challenge?
The Shasta Bike Challenge is a collaborative effort of the bicycling community to engage new, old, and current cyclists to ride as much as they can whether it is for transportation, exercise, or just for fun! Participants can register as an individual or join a team or workplace for the local challenge through the Love to Ride platform. The challenge is free and all level of riders are welcomed!
The challenge is from May 1st to 31st. All participants are entered into a free drawing for great prizes each day they ride their bicycle to work, on errands, for exercise, or wherever they want to go (up to 31 entries)!
The local  Shasta Bike Challenge is tracked on the National Bike Challenge platform, Love to Ride. The tracking platform allows participants to easily log and track trips with current leader board rankings based on mileage and points. Individuals, workplaces, and teams can compete with each other locally and/or participate for fun.
The platform can be used for free year-round to track lifetime statistics, but the stats start over in May to keep track of competition rankings.
How to Win
Joining a club/group is different from joining a workplace. Workplaces are the only ones earning points during the May Bike Month Challenge and are competing against other workplaces of similar sizes to win a bike rack to put at your workplace. At the end of the challenge, the top workplace in each size category will be entered into a drawing to win the bike rack. Clubs and groups can also win prizes, but are being tracked by the number of miles the members log. The club/group with the most miles logged will also win a bike rack to put at a Shasta County business/organization of choice.
Simply being a part of the Love to Ride platform and logging rides during the month of May will enter you into drawings to win weekly prizes and final prizes. The more rides you log (of at least 10 minutes/1 mile), the more times your name is entered into the drawings (up to 31 times)!
You can be a part of a workplace AND a club/group because they are not competing against each other.
All participants that live in Shasta County help our community rank up in miles and points for the National Bike Challenge where we compete against many other communities across the nation. In 2019, Shasta County  ranked #2 Nationally at the end of May for its population size, and 4th overall in the National Bike Challenge, beating out much larger communities. In 2018, Shasta County ranked #2 overall Nationally. Every mile and every day of riding helped Shasta County inch closer to be the top contender in the National Bike Challenge and be recognized as the top cycling community in the Nation during Bike Month. Ride on!
Steps to Register
Step-by-step instructions available here!
---
The Great Bike Giveaway
March 22 – April 19, 2021 Shasta County residents are invited to apply to win a Pedego e-bike! The Shasta Bike Challenge Workgroup is looking for one person who is in need of transportation and wants to share their story. During Bike Month in May, this lucky winner will share where their e-bike took him/her throughout the month. Applications are available here and winner will be announced at the end of April.
If you do not have internet access and need a paper application, please call 530-225-5352.
Solicitud en español aquí!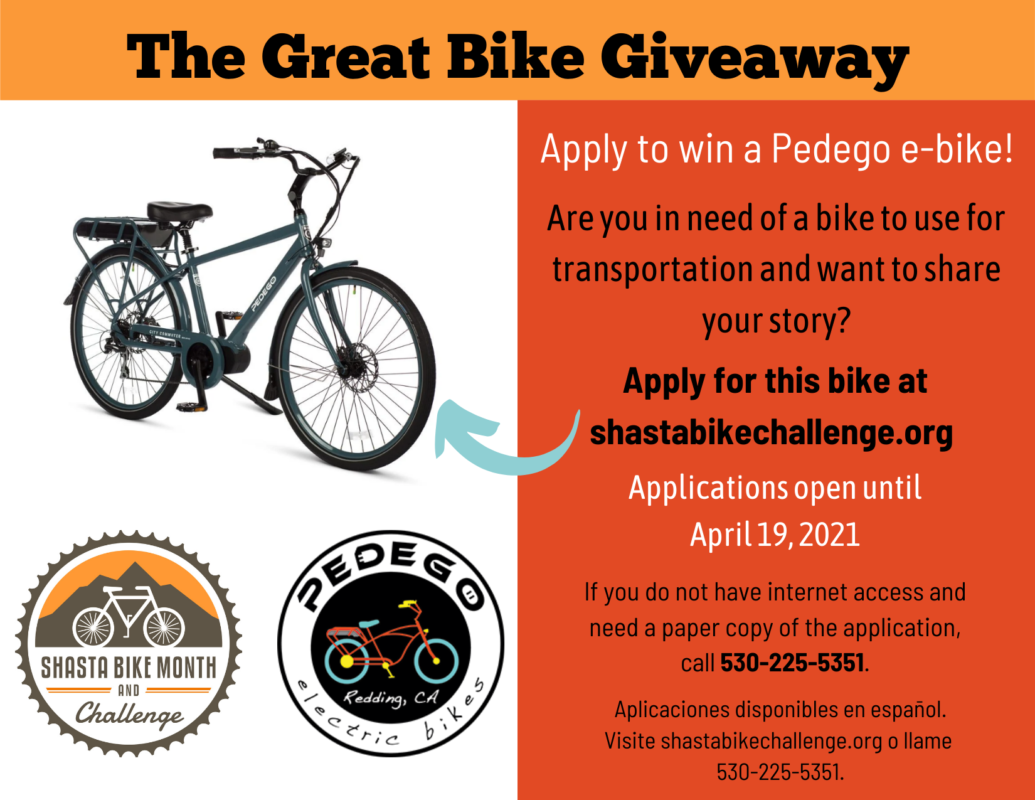 The Great Bike Giveaway Rules: Contest ends at midnight on April 19, 2021. Paper applications must be postmarked by April 19, 2021. All eligible applications will be judged by the Bike Month Workgroup. Only one application allowed per person. No purchase necessary to apply. Top applicant will be awarded one e-bike, one helmet, and one lock for truthfully describing his/her need for a bike to be used as transportation. Number of contestants and top applicant will be notified and posted on the shastabikechallenge.org website on or by April 30, 2021. E-bike, helmet, and lock valued at $3300. Ineligible applicants include Healthy Shasta staff and their immediate family, Shasta Bike Month Workgroup members and their immediate family, non-Shasta County residents, and people under 16 years of age.
---
Bike Challenge Survey 2020
Thank you to everyone who completed the Shasta Bike Challenge survey.
Compared to the 2019 bike challenge, we had a 5% increase in participation and a 21% increase in mileage. We also had a 55% increase of participants who rode every day in May. Our community responded very well to the bike challenge despite Covid-19. Our survey of our participants (30% of those who participated took the survey) found that because of the bike challenge, 57% of our participants bought bike supplies, 27% replaced some driving trips with bike trips, 21% paid for a tune up or bike repair, and 13% bought a bike (33 individuals). As a result of stay at home orders during the bike challenge, 81% biked more for exercise, 72% biked more for mental health, 15% biked more for transportation, 14% biked more for errands, while only 8% could not bike as much as they wanted, 3% felt uncomfortable biking, and 2.5% biked less.
Check out the full survey results: SBC Survey Results 2020
---
Looking for someone to ride with?
Check out one of these local organizations who would love to ride with you.
Shasta Wheelmen
Shasta Living Streets
Redding Trail Alliance
Local Recreation Opportunities
Not sure where to ride? We got you covered. Check out the Local Map Listings for a list of local trails.
Looking for a Mountain Bike trail to ride with a full map description? Check out the BigFoot Mountain Bike Challenge routes and maps.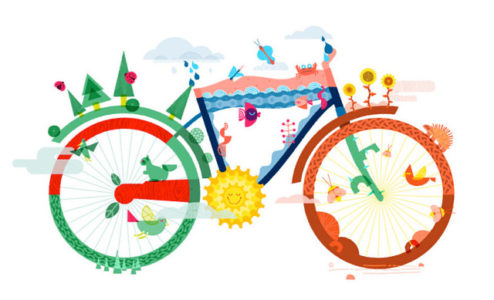 "Nothing compares to the simple pleasure of riding a bike."