Healthy Shasta Walks
Walking
Healthy Shasta aims to encourage people to walk and bike more for both transportation and recreation while working behind the scenes to support the creation of environments that make bicycling and walking easier, safer and more convenient for transportation and recreation.
Did you know you can meet physical activity recommendations for better health by walking briskly for 30 minutes a day, at least 5 days a week? These bouts of physical activity can be broken into 10 minutes segments – such as walking during your break at work or walking 15 minutes of your com-mute each workday.
Healthy Shasta Walks Passport
Start exploring now with the Healthy Shasta Walks Passport! The passport features various walks and walking activities people can try to be more active throughout the day. Passports available at most libraries in Shasta County and available on the Healthy Shasta Walks website.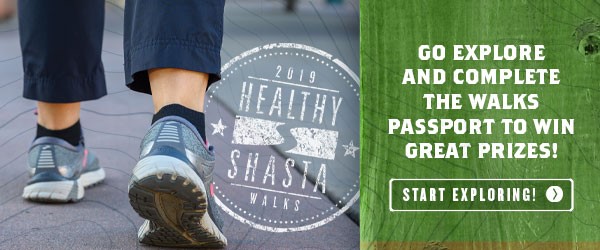 Download your Healthy Shasta Walks Passport today!
Participants who complete at least 10 walks on the Walks Passport are eligible for PRIZES such as a grand Adventure Package including:
Night stay in a Caboose at the Dunsmuir Railroad museum
Passes to Shasta Caverns and Turtle Bay Exploration Park
Fit Bits
Stand Up Paddle Board lesson
National Park Pass
Those who complete all 25 walks by blacking out their passport will be entered into an additional drawing for gift certificates from Fleet Feet for new sneakers. Passports need to be completed and returned to libraries (Anderson, Burney, Cottonwood, Redding and Shasta Lake) by November 30, 2019, for participants to be eligible for prizes. Participants need to reside in Shasta County. All participants completing 10 walking activities on the Walks Passport will get a bandana when they turn in the passport at the library starting November 1st.
Walktober Challenge
The 2019 walking challenge is over. Find the results here "Walktober Challenge Results"
Local Walking Guides
Find Places to Walk and People to Walk With
Starting a Walking Program
Are you interested in starting a walking program? Check out this video to learn more.

Find out more about Creating More Walkable Communities.