Current Challenges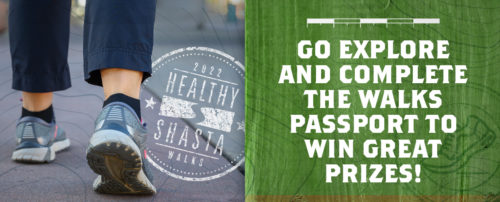 A Challenge for the New Year – 25 Walks to Try Within the Healthy Shasta Walks Passport
Need some extra motivation to move in the New Year? Healthy Shasta invites all Shasta County residents to participate in the Healthy Shasta Walks Passport 2022. Complete the Walks Passport during January and February 2022 by exploring new places to walk, adding a few more active minutes to daily routines, and  improving health and well-being.  Pick up a copy of the Walks Passport at most Shasta County libraries or download and print a copy available January 1, 2022.
Complete at least 10 walks on the Walks Passport to receive a pair of sports socks or hip pack (while supplies last) and to be eligible for prizes, such as gift certificates toward new sneakers at Fleet Feet Redding. Other prizes will be awarded throughout January and February through Walks Passport Challenges on social media. Complete all 25 walks to be entered into an additional drawing for a pair of wireless ear buds! Most walks are general enough for participants to complete in all communities in Shasta County. Walks must be completed by February 28, 2022.
This is the 3rd year of the HS Walks Passport. Participation doubled between the first and second year. One satisfied participant noted, "two months ago, I asked my son 'Hey do you want to do this walking contest with me?' He looked up from his Nintendo game and grunted, "Nah…". My son is healthy and in good shape, but he's a homebody. Getting him to go on family outings is a chore. So, in the beginning he dragged his feet when I would say, 'Come on let's go for a walk around the neighborhood.' By the end of this challenge he was cheering alongside as he watched the step counter reach our 10,000-step goal for the day. It took us about three weekends of walking trips to achieve our step goal. Now he will ask to go for a walk. And even though he will come back and go straight back to his Mario game, I'm proud a momma to see him enjoying the balance in life."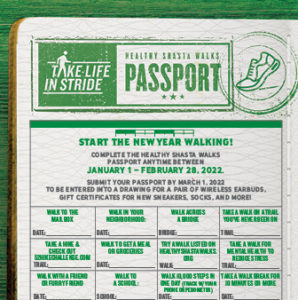 Participating Libraries and Community Locations:
Anderson Shasta Public Libraries Branch, 3200 W Center St, Anderson, CA 96007
Anderson Teen Center, 2889 E Center St, Anderson, CA 96007
Burney Shasta Public Libraries Branch, 37116 Main St, Burney, CA 96013
Cottonwood Community Library, 3427 Main St, Cottonwood, CA 96022
Fall River Valley Library, 43250 CA-299, Fall River Mills, CA 96028
Redding Shasta Public Libraries Branch, 1100 Parkview Avenue, Redding, CA 96001
Passports need to be completed and returned to participating local libraries or Healthy Shasta via mail or email: Healthy Shasta,
2660 Breslauer Way, Redding, CA 96001 or admin@healthyshasta.org by March 1, 2022, to be eligible for prizes. Participating libraries will serve as prize pick-up destinations starting March 15, 2022. Participants must reside or work in Shasta County.
The Walktober 2021 Challenge is Back!
What's more fun than walking? Walking for a team challenge, of course. The Walktober Challenge is back, and October is a perfect time to get active, win prizes, and support local charities.
Worksites are encouraged to compete as a team or start a friendly competition between coworkers with multiple teams. Teams of friends, family, school clubs, and neighborhood groups, or any collection of people are also invited to participate.
Improve your mental clarity and feel more energetic this October as you connect through walking. Win prizes such as gift cards and Whiskeytown/Lassen National Park passes. Winning teams receive cash donations for charity. Must live or work in Shasta County to win.
Sign-up on our new platform to join your team for the Walktober Challenge. Or, download the MoveSpring app from your device's app store. Use the challenge code walktober and confirm Healthy Shasta as your organization. To join your team for the Walktober Challenge, go to Challenges where you will find the Walktober Challenge to start/join a team. Follow @healthyshasta on Facebook or Instagram to be notified about the challenges, prizes, and fun events.
Challenge Description and Fine Print
Walk, skip, or run your way through October! The Walktober Challenge is your opportunity to connect with a team and get active for a good cause. With walking, everyone wins the benefits more energy and a better mood.*
Join or create a team, get active, and compete for prizes for yourself, your team, and a local charity of your choice.
Build or Join a Team.
Find your dream team of four or more that are willing to step up for fun, fitness, prizes, and a good cause! Worksites are encouraged to compete as a team or start a friendly competition between coworkers with multiple teams. Teams of friends, family, schools, neighborhood groups, or any collection of people may also participate. Teams work best if they consist of 4-15 members, but there is no cap on how many walking enthusiasts can be on a team. The first 50 captains to register a team with 3 other people will receive a prize bag to fuel their momentum. Just remember, you can only be part of one team.
Are you a free agent who doesn't have a worksite or community team to join? Never fear, you can still join the challenge by participating in the Free Agent Team. Free Agent Team members are eligible for individual prizes. Sorry, Free Agents, your team is not eligible for the cash prize donations.
Give It a Good Name.
What's in a name? Everything! Team Captains: choosing a team name is your first leadership task. Start off on a good foot by selecting a name that people in your company, school or neighborhood will recognize. "XYZ Business HR Department" or "Saratoga Neighborhood Strollers" are great examples.
Sign-up and Get Those Steps In.
Total team steps are calculated as an average of every member's daily steps, so having more members does not equal more steps. Building a team of random Facebook friends won't give you a leg up. It'll take everyone on your team putting their best foot forward.
Use your personal device to sign-up. The invitation link to sign-up online is https://link.movespring.com/join?orgCode=walktober&groupCode=MG23GK, or you can download the app from your app store. Use the code walktober and confirm Healthy Shasta as your organization. Once you have completed your account and profile set-up, go to Challenges where you will find the Walktober Challenge to start/join a team. Simplified set-up directions can be found here.
Follow this link for step by step directions or follow this video: How Do I Set Up a MoveSpring Account? | MoveSpring Help Center


Sync Your Favorite Step Tracker
When you join the MoveSpring platform, you will be prompted to sync your step tracking app or device. You can, also, access your device under My Devices. Help your MoveSpring profile stay up to date by regularly updating your step tracker and syncing to your MoveSpring account.
If your step tracker is not on the list or you are kicking it old school with a pedometer, you can choose manual entry. Remember to enter your steps at least once every five days to have them included.
MoveSpring provides the following user guides to help with manual entry:
MoveSpring Desktop Manual Entry
Win Prizes.
Competing in the Walktober Challenge means there are plenty of ways to win prizes! To keep energized, weekly prizes will be randomly awarded to individuals for completing weekly challenges and moving those feet.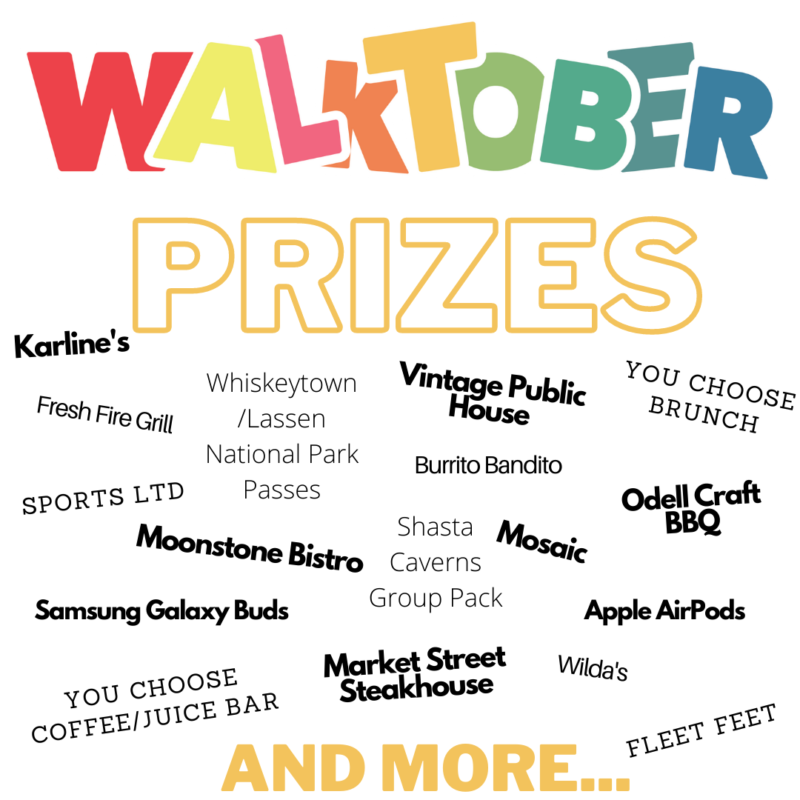 And, here's the fine print. Any challenge participant who works or lives in Shasta County is eligible to receive prizes and must show participation to win. Prizes are "as is" and while supplies last. Healthy Shasta staff and steering committee members may not win individual prizes.
The team with the most steps on average will take home the Grand Prize – $1000 donated to a local Shasta County charity of their choice! Talk about bragging rights. One additional team with active participation, i.e. teams with a cumulative daily average of 6000 steps or more, will be randomly selected to give a $500 cash prize to a local nonprofit. This is a great occasion to encourage your workplace or community to join a team and rally for an organization they love.
Cash prizes shall only be donated to nonprofit organizations that are located in Shasta County with tax exempt status under Section 501(c)(3) of the Internal Revenue Code. Funds may not be designated for political or sectarian religious purposes.  Faith-based organizations designated by the IRS as tax-exempt 501(c)(3) that do not discriminate and serve the entire community without regard to belief may receive funds for nonsectarian activities. One organization per prize.
Turn on Your MoveSpring Or It Didn't Happen!
Be sure to turn on your MoveSpring notifications. Follow @healthyshasta on Facebook or Instagram to be notified about the challenges and for a chance to win some pretty fun prizes. This challenge is open to everyone – from Work Walkers, Mom Walkers, Dog Walkers and Mall Walkers to Silly Walkers, Model Walkers, Costumed Walkers and everyone in between! Fitness, fun, funky walking shoes and stepping up for cool prizes and a good cause – that's what Walktober is all about!
Questions about the challenge?
Please email keske@co.shasta.ca.us
* We acknowledge that the air quality can impact your ability to get outside and participate in physical activity. It is important to look up the air quality daily in your area and know what the numbers mean to determine if it is safe for you to be outside and walking. AQI is the EPA's index for reporting air quality.
A few resources you can use to determine air quality are: 
If you have an iPhone, open the 'Maps' app. In the bottom right corner of the map, you will see the current temperature reading and the AQI right under it.