Farmers' Markets 2022
Shasta County has a number of certified seasonal farmers' markets, operated by the Shasta Grower's Association (SGA), that provide produce and other food that is fresh, locally grown, and often organic. All of the markets listed gladly accept EBT (formerly known as food stamps). Be sure to note the months and hours of operation for each market.
If you are interested in being a vendor at the markets please contact
the Shasta Growers Association at 226-7100 or visit their website at www.reddingfarmersmarkets.com.
2022 Certified Farmers' Markets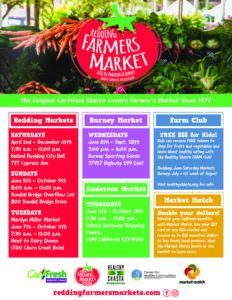 Certified Farmers' Markets are locations certified by the Agricultural Commissioner where a producer sells only their own fruits and vegetables directly to consumers.
EBT Gladly Accepted at ALL Shasta Growers Associations' Markets
Please note that dogs or other animals are NOT allowed at the market unless it is a service animal.
Redding Market
Saturday, April 2 – December 10, 2022
7:30 a.m. – 12:00 p.m.
Located behind Redding City Hall, 777 Cypress Avenue, Redding
Market by Sundial Bridge
Sunday, June 5– October 9, 2022
8:00 a.m. – 12:00 p.m.
Sundial Bridge Overflow Lot, 8oo Sundial Bridge Drive, Redding
Marilyn Miller Market
Tuesday, June 7 – October 11, 2022
7:30 a.m. – 12:00 p.m.
Next to Dairy Queen, 1700 Churn Creek Road, Redding
Burney Market
Wednesday, June 8 – September 28, 2022
3:00 p.m. – 6:00 p.m.
Burney Sporting Goods Parking Lot
37427 Hwy 299 E., Burney
Anderson Market
Thursday, June 9 – October 13, 2022
7:30 a.m. – 12:00 p.m.
Shasta Gateway Shopping Center (Factory Outlets)
1699 Hwy 273 #100, Anderson
At the Market
Market Match Program
The Center for Healthy Communities at Chico State is partnering with the Shasta Growers Association (SGA) to bring Market Match to Shasta County.
With Market Match, your CalFresh card will buy more fresh, healthy produce!
How it works:
Visit any of the five SGA farmer's markets in Redding, Anderson, or Burney. Farmers' Markets 2022 – healthyshasta.org
Find the market manager booth and swipe your CalFresh/EBT/food stamps card for the amount you would like to spend at the market.
Visit the Market Match booth with the Market Match logo to receive up to $15 in additional vouchers for produce.
Buy and enjoy delicious, local produce.
Repeat every time you visit an SGA farmer's market in Shasta County.
To learn more, Visit us at the Farmers' Market – Center for Healthy Communities – Chico State (csuchico.edu)
FARM Club
Kids ages 3 to 15 years old receive $4 in tokens to shop for fruits, vegetables, or plants that produce food. See kids get excited about choosing fruits and veggies!
Redding Farmers' Market (Saturdays 7:30 am – noon; 777 Cypress Ave., Redding, CA) Every Saturday in June, find FARM Club under Healthy Shasta's green tent at the Redding Saturday market.
Burney Farmers' Market (Wednesdays 3:00 pm – 6:00 pm; 37427 Highway 299 E, Burney, CA) Every Wednesday in July, and the first Wednesday of August, Healthy Shasta's green tent will be hosting FARM Club at the Burney Farmers' Markets!
Other Nearby Farmers' Markets 2022
*Not an SGA Market
Please Note: Due to changing water situations and other circumstances, many of these markets do not have specific market details yet. Please try to contact the markets directly through Facebook for their latest information. 
*Old Station Farmer's Market

Saturdays 9:00a.m.-3:00p.m. Starting April 25th
Gordon's Rim Rock Ranch
13275 State Hwy 89 Old Station, CA 96071
*Palo Cedro & Crafts Fair
Thursdays June 9 -December 17
3:00 p.m. to 6:00 p.m.
22037 Old Forty Four Drive, Palo Cedro
Palo Cedro Community Guild Hall
Red Bluff Farmers' Markets

*Saturday Market by the River
Saturdays: Year-round
 9:00a.m.-1:00p.m.
River Park, Red Bluff
555 Washington St.
www.redbluffchamber.com (530) 527-6220
Farmers' Market Posters