Farmers Markets 2023
Shasta County has a number of certified seasonal farmers' markets, operated by the Shasta Grower's Association (SGA), that provide produce and other food that is fresh, locally grown, and often organic. All of the markets listed gladly accept EBT (formerly known as food stamps). Be sure to note the months and hours of operation for each market.
If you are interested in being a vendor at the markets, please contact the Shasta Growers Association at 530-226-7100 or visit their website at www.reddingfarmersmarkets.com.
2023 Shasta Growers Association's Certified Farmers Markets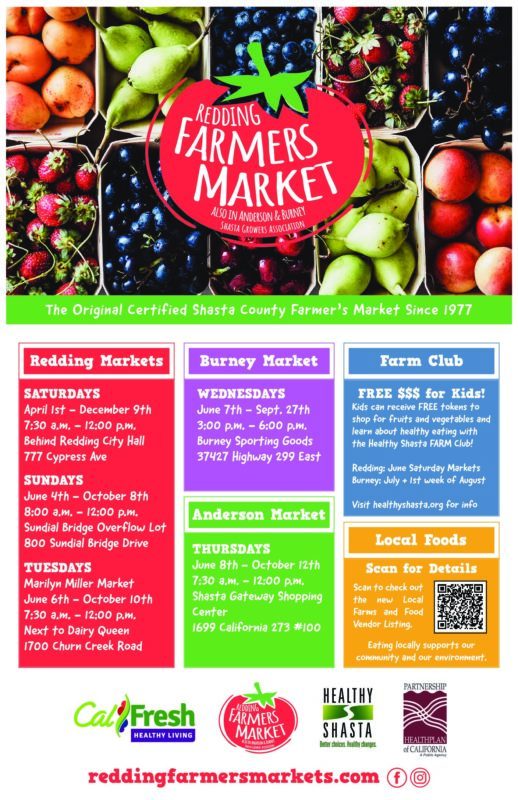 Certified Farmers Markets are locations certified by the Agricultural Commissioner where a producer sells only their own fruits and vegetables directly to consumers.
EBT Gladly Accepted at ALL Shasta Growers Associations' Markets
Please note that dogs or other animals are NOT allowed at the market unless it is a service animal.
At the Market

FARM Club
Kids ages 3 to 15 years old receive $4 in tokens to shop for fruits, vegetables, or plants that produce food. See kids get excited about choosing fruits and veggies!
Redding Farmers' Market (June-Saturdays 7:30 am – noon; 777 Cypress Ave., Redding, CA) Every Saturday in June, find FARM Club under Healthy Shasta's green tent at the Redding Saturday market.
Burney Farmers' Market (July-Wednesdays 3:00 pm – 6:00 pm; 37427 Highway 299 E, Burney, CA) Every Wednesday in July, and the first Wednesday of August, Healthy Shasta's green tent will be hosting FARM Club at the Burney Farmers' Market!
Redding Market
Saturday, April 1 – December 9, 2023
7:30 a.m. – 12:00 p.m.
Located behind Redding City Hall, 777 Cypress Avenue, Redding
Market by Sundial Bridge
Sunday, June 4– October 8, 2023
8:00 a.m. – 12:00 p.m.
Sundial Bridge Overflow Lot, 8oo Sundial Bridge Drive, Redding
Marilyn Miller Market
Tuesday, June 6 – October 10, 2023
7:30 a.m. – 12:00 p.m.
Next to Dairy Queen, 1700 Churn Creek Road, Redding
Burney Market
Wednesday, June 7 – September 27, 2023
3:00 p.m. – 6:00 p.m.
Burney Sporting Goods Parking Lot
37427 Hwy 299 E., Burney
Anderson Market
Thursday, June 8 – October 12, 2023
7:30 a.m. – 12:00 p.m.
Shasta Gateway Shopping Center (Factory Outlets)
1699 Hwy 273 #100, Anderson
Other Nearby Farmers' Markets 2023
Shingletown Farmers Market- A Certified Farmers Market-Tuesdays, June-Oct. 3-7 pm. Shingletown Library 7074 Wilson Hill Rd., Hwy 44 Shingletown, CA. Call for updates for start and end dates. 530-710-4949
Red Bluff Farmers Market- Wednesdays June-Sept. 5-8 pm. 633 Washington St. Red Bluff, CA at the old courthouse
The Saturday Market by the River- Red Bluff- Saturdays, Year-round. 9 am-noon. 100 Main Street Red Bluff, CA
Farmers Market Posters from Past Years