Rethink Your Drink
Why Rethink Your Drink?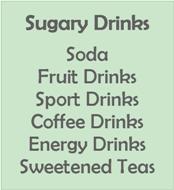 Sugary drinks (see box at right) contain extra calories that provide little nutrition and can lead to unwanted weight gain. Being overweight and/or obese increases the risk of many chronic diseases, including:
high blood pressure
heart disease
cancer
stroke
type 2 diabetes
Drinking a lot of sugary drinks can also lead to tooth decay – even diet drinks contain acid that can cause cavities. In addition, drinks with added sugar often replace healthy choices like low-fat milk which is a good source of calcium and vitamin D. This can lead to the development of osteoporosis, a decrease in bone density.
Potter the Otter Teacher Toolkit
Potter the Otter is a fun book for teaching young children about drinking water. Here are some great tools to reinforce Potter the Otter's message:
Water Filling Stations
Have you been searching for a place to purchase hydration stations for your school? By installing a water bottle filling station at your school, you can offer free, cold, filtered water to your students, staff, and visitors. Staying hydrated throughout the day helps boost energy levels, improves concentration and promotes better focus.
Information and links to companies that sell hydration stations are listed below.
For additional information and/or questions: hsinfo@healthyshasta.org.
How much sugar is in your drink?
Click here to find out "Sugar Shockers!"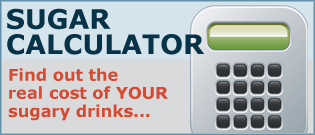 Another option – Use the interactive Sugar Calculator at right and info from the nutrition label to figure out how much sugar you are drinking and how much money you're spending on sugary drinks!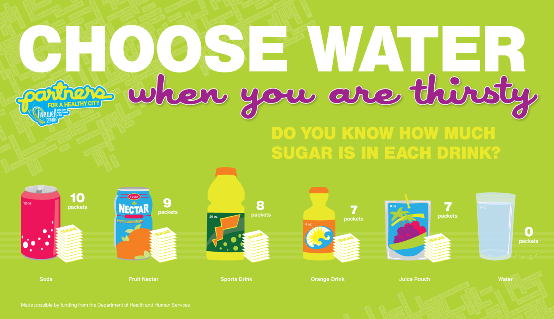 Is sugar hiding in your drink?
High-calorie sweeteners go by many different names and are not always obvious in the ingredients list. If one or more of the following appear in the ingredients list of your favorite beverage, you are drinking a sugary drink: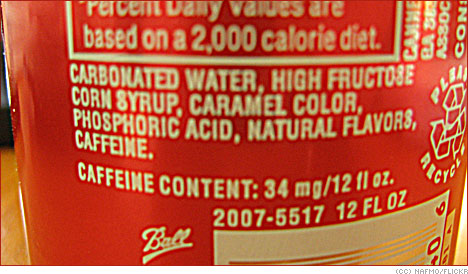 Corn syrup
Dextrose
Fructose
Fruit juice concentrates
High-fructose corn syrup
Honey
Sucrose
Sugar
Syrup
Sugar Shockers!
According to the American Heart Association (AHA), American adults are consuming 22 teaspoons of sugar daily. For teens, the number shoots up to 34 teaspoons daily. Much of this sugar comes from soft drinks and candy. The AHA suggests adults should be eating no more than 6-9 teaspoons of added sugar daily.
Overweight/obese adults in Shasta County are more likely to report drinking 8 or more 12 oz servings of soda per week than adults at a healthy weight.
A child's risk for obesity increases an average of 60 percent with every additional daily serving of soda.
According to the Centers for Disease Control, half of the population age 2 and older consumes sugary drinks – meaning soda, sweetened bottled water, sports and energy drinks and fruit drinks (but not 100-percent juice) – everyday.
A 150 pound person would need to jog for 40 minutes to burn off the 250 calories in one 20 oz soda. A 110 pound person would need to jog for 50 minutes.
63% of U.S. high school students drink soda, sports drinks, energy drinks or other sugar sweetened beverages daily.
American teens drink almost twice as much soda and sweetened beverages as milk.
The average American consumes 50 gallons of soda and other sweetened beverages each year.
Beverage compainies spend more than $608 million every year to sell their products. Ads for sugary drinks are on TV, at the movies, on billboards, at sporting events, in video games, and even on the internet.
Statistics from the Center for Science in the Public Interest 2005; California Center for Public Health Advocacy Bulletin 2009; CDC 2010 Beverage Consumption; Berkeley Media Studies Group, 2009; American Journal of Public Health, 2011; and Professional Research Consultants, Inc. 2011.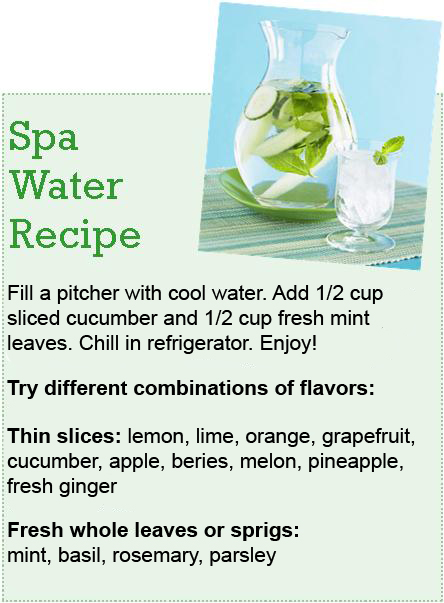 What can you do?
Make smart drink choices…try the following tips:
When thirsty, think water first.
Drink water when eating out- it's free!
Drink 100% juice in limited amounts or mix juice with seltzer water.
Make flavor infused water by adding lemons, limes, berries, cucumbers, mint leaves or other natural flavors for a refreshing treat.
Choose unsweetened coffee or tea and lightly flavor it yourself.
Cut portion sizes of sugar-sweetened drinks by choosing a "small" instead of a "large".
How much sugar are you drinking?
Watch these videos to find out.

Courtesy of: http://www.insurancequotes.org/hidden-cost-soda
Resources
Free Printable Posters
Thirsty?
Prevent Wrinkles
Empower Yourself
Headache Reliever
4 Reasons to Drink More Water
Rethink Your Drink, Go H2O High School Poster Contest!
And the winner is… Amber Elliot of Central Valley High School.
Congratulations Amber! Thank you for your unique and creative design to promote drinking water instead of sugary beverages and encourage people to go outside and be active this summer!
Open the pdf file below if you'd like to see the poster Amber created.
Poster Contest Winner
Take the Pledge to Rethink Your Drink!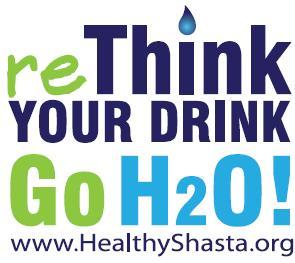 We want to thank everyone for participating in the summer Rethink your Drink pledge to drink more water.  Tracking your water intake is another useful way to help you stay on track with drinking healthier beverages.
Congratulations to Diana Bates, she won the drawing for three months of refreshing, bottled spring water, courtesy of Mt. Shasta Spring Water.  Diana says, "I don't drink sodas or sweet drinks, but I know I don't drink enough water when it's colder out, so I made the decision to be conscious about my water intake."
Why drink fewer sugary drinks? Empty calories from sugary drinks like
soda, energy drinks and sports drinks are a major contributor to the
obesity crisis. In Shasta County, 65% of adults and 29% of 7th and 9th
graders are classified as overweight or obese and at risk for type 2
diabetes, heart disease and high blood pressure.
Take a personal pledge to rethink your drink and incorporate healthier
habits into your day.  Tracking your water
intake is another useful way to help you stay on track with drinking
healthier beverages. Download the free free tracking sheet below to track your beverage intake.
Tracking Sheet – Use this tracking sheet to help you stay on track.