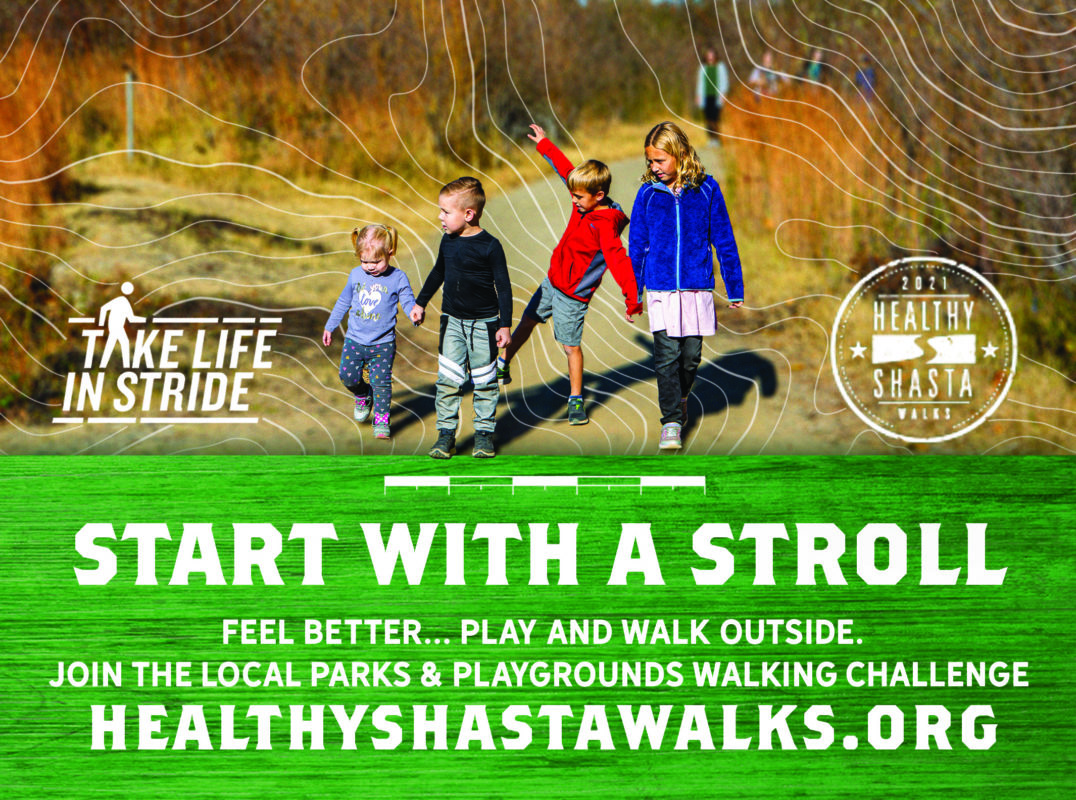 Shasta Parks & Playgrounds Walking Challenge: March 1st-31st 2021
Get ready to experience Shasta County's best playgrounds and pocket parks!
Healthy Shasta is launching its latest walking challenge and this time it is based (virtually) right in our back yard. Starting March 1st you will be able to monitor your progress on a specially designed trek all around Shasta County's playgrounds. From Fall River to Cottonwood and everywhere in between you will discover many playgrounds and parks that you never knew existed, true local gems hidden in plain sight.
This month-long challenge is a great way to do something good for yourself and something healthy with your family. In order to complete the park routes, participants need to walk 7,000 steps every day in March. Everyone in Shasta County is invited to join.
You have until March 10th to sign up for this challenge!
To sign up for this challenge go to the "Healthy Shasta Walks" tab and click on current challenges. You will be directed to the Walker Tracker page where you can start a free account. Once you have an account, download the app and "join" the Shasta Playgrounds Walking Challenge. On March 1st make sure your pedometer is synced to Walker Tracker and get moving. If you already have the Walker Tracker app, join the challenge through your app.
Along the way, Healthy Shasta will be throwing out some gift cards and prizes such as passes to Turtle Bay, Shasta Caverns, the Redding Aquatic Center, and an annual Whiskeytown Pass. All walkers who finish the course will be awarded a great Sip/Snack Cup to enjoy at the playgrounds!