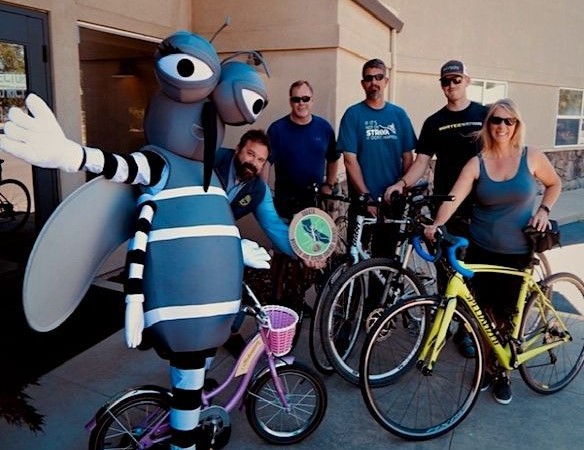 Bicycle Friendly Business 2019 – Shasta Mosquito and Vector Control District
Shasta Mosquito and Vector Control District has been named Bicycle Friendly Business of the Year! Embracing a bicycling culture has helped them to foster a team atmosphere while encouraging a healthy lifestyle for employees. They increase safety for all bicyclists by including information about safely driving near bicyclists in their annual drivers training (many of their employees are out on the road in trucks for work) and sometimes include bicycle related topics in monthly safety meetings. They provide secure bicycle parking protected from the weather, locker rooms with showers, bicycle information during new employee orientation, and have staff designated as the 'go to' people to help bike commuters. Although they are a small organization, their team in the annual Shasta Bike Challenge is a force to be reckoned with!
2019 Honorable Mentions include:
Sheraton Hotel at the Sundial Bridge for the creative 'Inspire' shaped bicycle rack that welcomes the public, allowing guests to use valet luggage storage for bicycles, proving bike maps to customers, and private restrooms for employees to change in.
Manzanita Elementary School for hosting weekly "Walk and Roll Fridays" (student earn charms for walking or bicycling to school), the Parent Boosters Club purchased a custom bike rack in the school's signature purple, participating in Bike to School Day, and other encouragement for riding to school.
Bikes are good for business! The 2019 Bicycle Friendly Business Award recipient will be announced on Friday, June 7th, at the Bike Month Celebration at Chain Gang. This free family-friendly event takes place 4:30 – 9 pm.
What is a Bicycle Friendly Business? It's a business or organizations that takes steps to make it easier for their employees to commute by bike (thereby supporting employee wellness, productivity, and satisfaction) as well as making it inviting for customers to arrive by bike (which contributes to a vibrant community and high quality of life). For examples of how your business can be more bicycle friendly, see the examples of the local nomination form or visit the League of American Bicyclist's website.
More details about the 2019 Shasta Bicycle Friendly Business Awards are on the Fact Sheet:
What do local businesses do to be bike-friendly? Redding Rancheria has bicycles on site that employees may use during lunch or after work, and provided prizes to employees who took selfies at designated spots while out riding the Mayors Mt Bike Challenge. The Red Lion Hotel on Hilltop has bikes and bike maps for guests to use and indoor secure bike parking for employees. Owens Healthcare provides incentives to employees participating in the Shasta Bike Challenge (your worksite can join the Challenge for free right now!), and offers showers, indoor bike parking, and group rides for employees. More examples from local recipients of the Bicycle Friendly Business Awards
The Bicycle Friendly Business Award is offered in collaboration with the Redding Chamber of Commerce, Healthy Shasta, and the Shasta Bike Month Planning Team. Questions? Call 229-8243.