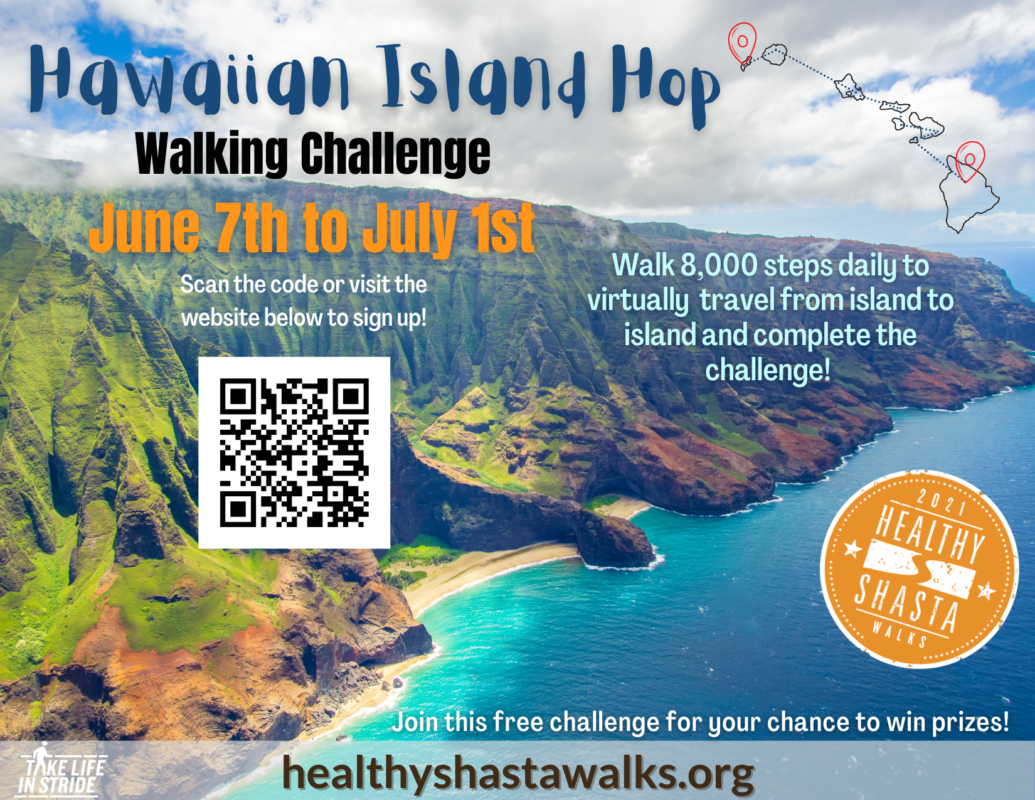 Hawaiian Island Hop Walking Challenge: June 7-July1, 2021
Tour the islands of Hawaii without even getting on a plane by participating in this walking challenge!
From June 7th to July 1st, make it a goal to walk 8,000 steps daily and you'll complete the virtual island hop challenge by walking 200,000 steps in total.
Sign up for the challenge by logging in to your Walker Tracker account (or registering HERE if you are a first time user), clicking on the "Challenges" tab, and clicking the 'Join' button next to the Hawaiian Island Hop Challenge.  Make sure your pedometer (Fitbit, Garmin, smartphone) is connected to your Walker Tracker profile so you can track your steps through Hawaii.
Follow Healthy Shasta on social media for prize drawings every week and information on walking routes by the water to keep you cool.  Healthy Shasta | Facebook
Prizes include:
Tickets to Turtle Bay's Walk for Wildlife event on June 12th
Nui Hawaiian BBQ gift card
Certificate for a kayak/ stand-up paddle board rental from Whiskeytown at Brandy Creek Beach
A $50 Sports LTD gift card for walking gear
*Only Shasta County residents are eligible to win prizes.