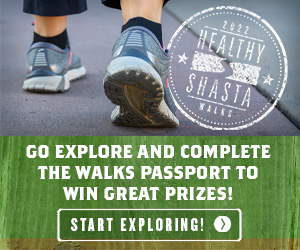 Healthy Shasta Walks Passport 2021-Start the New Year Walking & Win Prizes!
Walk to wellness in the New Year.  Healthy Shasta invites all Shasta County residents to participate in the Healthy Shasta Walks Passport. Complete the Walks Passport during January and February 2022 to explore new places to walk, add a few more steps to daily routines, and  improve health and well-being.  Pick up a copy of the Walks Passport at most Shasta County libraries or download and print a copy starting January 1, 2022.
Complete at least 10 walks on the Walks Passport to receive a pair of sports socks or hip pack (while supplies last) and to be eligible for prizes, such as gift certificates toward new sneakers at Fleet Feet Redding. Other prizes will be awarded throughout January and February through Walks Passport Challenges on social media. Complete all 25 walks to be entered into an additional drawing for a pair of wireless ear buds! Passports need to be completed and returned to Healthy Shasta via mail or email: admin@healthyshasta.org by March 1, 2022, to be eligible for prizes. Participants must reside or work in Shasta County.
The Walks Passport is part of the Healthy Shasta Walks campaign. The campaign offers maps and trail information, hosts walking challenges, and shares walking resources to make walking safe and convenient.
Shasta County has a high population of residents with chronic health conditions such as heart disease and diabetes, which can be better managed through walking and other physical activity. Walking can be done with minimal resources and safely by physically distancing.  Walking in nature also provides a way to reduce and manage the stress of daily life.  The Walks Passport is a way to make something we do every day fun, and provides an opportunity to explore more of our community. Here's to a healthier you!
To learn more or to download a Healthy Shasta Walks Passport, visit Current Challenges – healthyshasta.org.