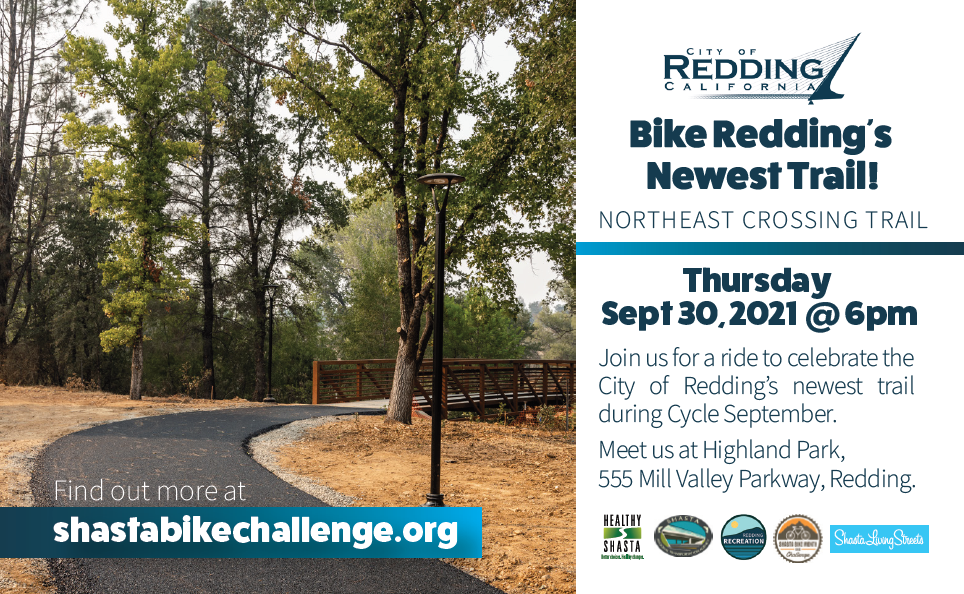 Ride the NEW Northeast Crossing Trail- last group ride of Cycle September!
Join us on Thursday, September 30, 6:00 pm for a final ride in Cycle September. This Bike About Shasta ride will take you on the Northeast Crossing Trail, Redding's newest trail! This trail connects the Highland Park neighborhood around the northwest side of Bethel and the trail paralleling 299/Lake Blvd. Beginning at Highland Park, off Mission de Oro Drive, we will ride a short section of neighborhood street to the trailhead (approximately 1 mile). The trail is about .5 miles long and meanders through mostly flat terrain in a native oak woodland and a bridge crossing Boulder Creek. After a gentle climb, the trail ends at the intersection with the 299 trail (1.5 miles). At that point, we will turn around and head back the way we came, returning to Highland Park. If you are driving to the ride, limited parking is available on neighborhood streets. Please do not block driveways.
Ride your bike to the ride and be entered into a drawing for a new rechargeable bike light. Can't make it at 6 pm or you want to explore the trail on your own? Come on out between 6:00-7:00 pm to walk or ride the trail and enjoy refreshments. Event brought to you by Healthy Shasta, the Shasta Bike Month workgroup and Parks and Recreation. Trail made possible by Shasta Living Streets, Shasta Regional Transportation Agency, and City of Redding.