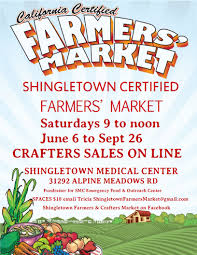 Shingletown Farmers' Market Now Open
The Shingletown Certified Farmers' Market is now open Saturdays from 9:00 a.m. to Noon at the Shingletown Medical Center parking lot. The address is 31292 Alpine Meadows Road in Shingletown. It is open every Saturday now through September 26, except July 4th.
Don't forget to check out other Saturday & Sunday Farmers' Markets! The Redding Market is now open Saturdays from 7:30 a.m.-Noon at Redding City Hall and the Market by Sundial Bridge is now open Sundays from 8:00 a.m.-Noon.