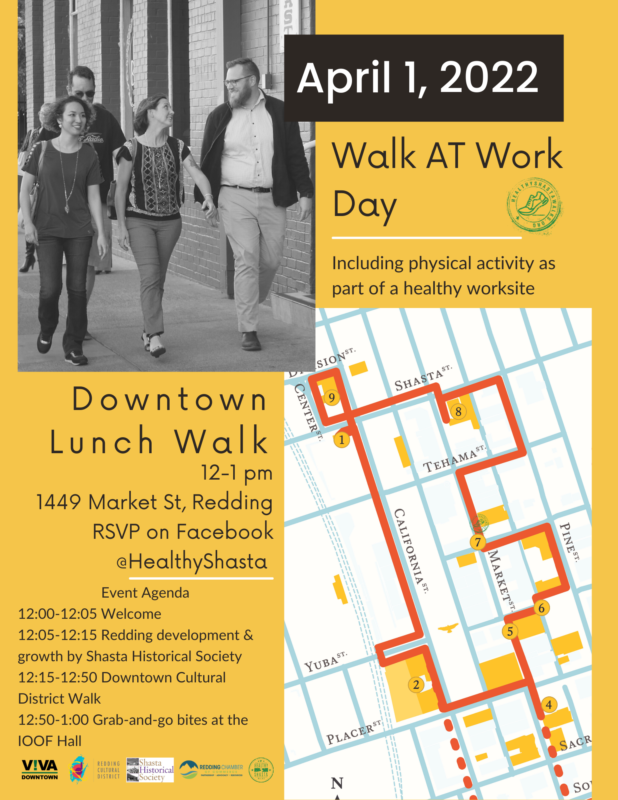 Walk AT Work Day – Jokes aside when it comes to a healthy worksite
Discover how to champion your health with physical activity during the workday. Whether you work onsite or remotely, Healthy Shasta encourages employers and employees to include physical activity as part of a healthy worksite. Start the conversation about healthy worksites and participate in Walk AT Work Day on April 1, 2022 by going for a walk during a break, lunch, and/or meeting.
As part of Walk AT Work Day, Healthy Shasta will be hosting a special lunchtime walk from 12-1 pm in Redding's Cultural District.  The Downtown Lunch Walk will begin at the Shasta Historical Society, 1449 Market St, Redding, CA. Following a brief presentation on the development and growth of Redding, participants will enjoy a 35-minute walk in Redding's Cultural District. Grab-and-go bites will be provided, while they last. To RSVP for this April 1st Walk AT Work Day event, visit our Facebook Event. Share the event with the Walk AT Work Day flyer.
Check out healthyshasta.org/work/healthy-worksites/ for ideas on how to incorporate physical activity and other healthy lifestyle choices while at work.