Local Farms and Food
Welcome to the Healthy Shasta Local Farms and Food listing. Here you can find a community resource of local producers in Northern California.
Siskiyou
View Vendors by County:
Homeward Bounty Farm
These vegetable, fruit, herb, and grain seeds are appropriate for mountain climates with short growing seasons. The seeds are open pollinated, Certified Organic, heirloom, adapted to Siskiyou County's unique climate and non-GMO.
View Website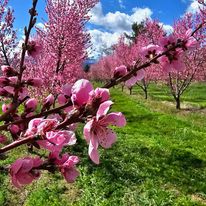 Hunter Orchards
Specialty fruits and vegetables including yellow and white peaches, nectarines, plums, and stone fruits, many varieties of apples, plus winter squash, raspberries, fingerling potatoes, tomatoes, and salad mixes. Also, a U-Pick pumpkin patch open daily in October.
View Website
Interested in being included in this listing? See guidelines here.
Disclaimer: Healthy Shasta does not endorse any of these products; we are providing a platform for our community to find local producers.